WORLD GONE WRONG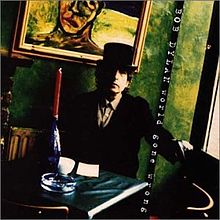 WORLD GONE WRONG is the twenty-ninth studio album by Bob Dylan, released on October 26, 1993, by Columbia Records.
It was Dylan's second consecutive collection of only traditional folk songs, performed acoustically with guitar and harmonica. The songs tend to deal with darker and more tragic themes than the previous outing, GOOD AS I BEEN TO YOU. The album received a warm, if not excited, reception from critics. Despite earning a Grammy award for Best Traditional Folk Album, it peaked at number 70 in the US, and at number 35 in the UK.
Below: Amsco Publications, Special Rider Music 1994, 23 pages.