STREET LEGAL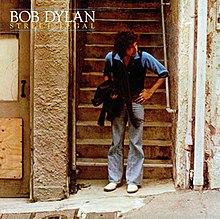 STREET LEGAL is the eighteenth studio album by Bob Dylan, released on June 15, 1978 by Columbia Records. The album was a serious musical departure for Dylan, who uses a large pop-rock band, complete with female backing vocalists.
Below are the songbooks, copyright Special Rider Music.
They include all the songs of the album: Changing Of The Guards, New Pony, No Time To Think, Baby Stop Crying, Is Your Love In Vain?, Señor (Tales Of Yankee Power), True Love Tends To Forget, We Better Talk This Over and Where Are You Tonight? (Journey Through Dark Heat).
| | | |
| --- | --- | --- |
| USA, Warner Bros. Publications Inc., N.Y., 52 pages | UK, Big Ben Music Ltd, London, EMI Music Publishing Ltd., 52 pages | Italy, R.T.V. Edizioni Musicali s.r.l, Milan, 42 pages |