NO DIRECTION HOME, THE SOUNDTRACK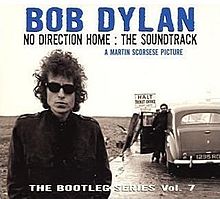 THE BOOTLEG SERIES VOL. 7: NO DIRECTION HOME, THE SOUNDTRACK is the fifth installment in the Bob Dylan "Bootleg Series" of rare and/or officially unissued recordings. It was released in 2005 in conjunction with the Martin Scorsese PBS television documentary on Dylan No Direction Home, and was compiled with Scorsese's input. It features mostly previously unreleased material from Dylan's formative years to his rise as an international figure, spanning 1959 to his legendary 1966 world tour.
Below: The songbook, USA 2006, Amsco Publications, NY, Music Sales Corporation, 64 pages. ISBN 0.8256.3452.0.
It includes all the songs of the album: When I Got Troubles, Rambler, Gambler, This Land Is Your Land, Song To Woody Dink's Song, I Was Young When I Left Home, Sally Gal, Don't Think Twice, It's Alright, Man Of Constant Sorrow, Blowin' In The Wind, Masters Of War, A Hard Rain's A-Gonna Fall, When The Ship Comes In, Mr. Tambourine Man, Chimes Of Freedom, It's All Over Now, Baby Blue, She Belongs To Me, Maggie's Farm, It Takes A Lot To Laugh, It Takes A Train To Cry, Tombstone Blues, Just Like Tom Thumb's Blues, Desolation Row, Highway 61 Revisited, Leopard-Skin Pill-Box Hat, Stuck Inside Of Mobile WIth The Memphis Blues Again, Visions Of Johanna, Ballad Of A Thin Man and Like A Rolling Stone.