SAVED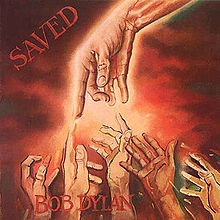 SAVED is the twentieth studio album by Bob Dylan, released on June 23, 1980, by Columbia Records. Saved was the second album of Dylan's "Christian trilogy", following his conversion to Evangelical Christianity.
It expanded on themes explored on its predecessor Slow Train Coming, with gospel arrangements
and lyrics extolling the importance of a strong personal faith.
The songbook, copyright Special Rider Music, was published in 1980, is has 54 pages.
It includes all the songs of the album: A Satisfied Mind, Saved, Covenant Woman, What Can I Do For You?, Solid Rock, Pressing On, In The Garden, Saving Grace and Are You Ready.
| | | |
| --- | --- | --- |
| USA, Warner Bros. Publications Inc., NYC | UK, Big Ben Music Ltd., London | Italy, R.T.V. Edizioni Musicali s.r.l, Milan. |