BOB DYLAN (a.k.a The First Album)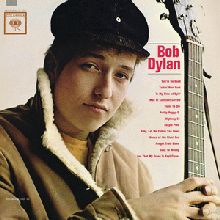 The eponymous debut studio album by Bob Dylan was released on March 19, 1962 by Columbia Records.
The album was produced by Columbia talent scout John H. Hammond, who had earlier signed Dylan to the label,
a decision which was at the time controversial.
The album primarily features folk standards, but also includes two original compositions, Talkin' New York
and Song to Woody. The latter was an ode to Woody Guthrie, a major influence in Dylan's early career.
The album did not initially receive much attention, but it achieved some popularity following the growth of Dylan's career, charting in the UK three years after its release, reaching #13.
There is no specific songbook of BOB DYLAN, a.k.a. the First Album. What gets closer to it is the compilation BOB DYLAN HIMSELF, which features -among others- five songs of the album: Gospel Plow, Man Of Constant Sorrow, Pretty Peggy-O, Song To Woody and Talking New York.