BLOOD ON THE TRACKS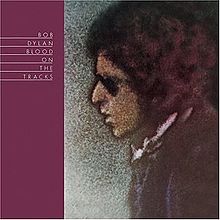 BLOOD ON THE TRACKS is the fifteenth studio album by Bob Dylan, released on January 20, 1975 by Columbia Records. The album marked Dylan's return to Columbia Records after a two-album stint with Asylum Records. Dylan commenced recording the album in New York City in September 1974.
In December, shortly before Columbia was due to release the record, Dylan abruptly re-recorded much of the material in a studio in Minneapolis. The final album contains five tracks from New York and five from Minneapolis.
Below are the songbooks, copyright Ram's Horn Music.
They include all the songs of the album: Tangled Up In Blue, Simple Twist Of Fate, You're A Big Girl Now, Idiot Wind, You're Gonna Make Me Lonesome When You Go, Meet Me In The Morning, Lily, Rosemary And The Jack Of Hearts, If You See Her, Say Hello, Shelter From The Storm and Buckets Of Rain.

USA 1975, Warner Bros. Publications Inc., 1975, # VF 0319, 48 pages








UK 1975, Big Ben Music Ltd. London, Distributed by EMI Music Publishing Ltd, 1975, # 0-86175-072-1, 48 pages







France 1975. Exclusive for France; publication Alain Pierson, conception and realisation Graffiti, distributed by Bagatelle S.A. Includes the translation into French of the back cover's text by Pete Hamill. 44 pages



Australia 1975, J. Albert Publications, distributed by Music Sales Australia, # AL2014, 48 pages



Italy 1975 , exclusive sale in Italy Edizioni Curci, Milan, 1975, 48 pages


An 8-page booklet with a presentation and a translation of the lyrics came with the Italian edition



UK 2017, Special Rider Music, Wise publications, part of the Music Sales Group, 'Classic Albums, Melody, Guitar chords and full lyrics', with introduction by Patrick Humphries and notes by several 'specialists in the industry', 32 pages.
ISBN 978-1785585494