THE 30th ANNIVERSARY CONCERT CELEBRATION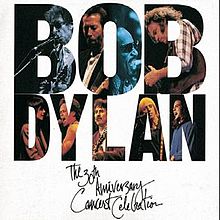 THE 30th ANNIVERSARY CONCERT CELEBRATION is a live double-album release in recognition of Bob Dylan's 30 years as a recording artist. Recorded on October 16, 1992, at Madison Square Garden in New York City, it captures most of the concert, which featured many artists performing classic Dylan songs, before ending with three songs from Dylan himself.
Below: The songbook, USA 1993, copyright Special Rider Music, Amsco Publications, Music Sales Corporation, with photos and a text by David Wild, 120 pages. ISBN: USA 0.8256.1375.2, UK 0.7119.3711.7.
It includes all the songs of the album: Like A Rolling Stone, Leopard-Skin Pill-Box Hat, Blowin' In The Wind, Masters Of War, Foot Of Pride, The Times They Are A-Changin', It Ain't Me, Babe, What Was It You Wanted, I'll Be Your Baby Tonight, Highway 61 Revisited, Seven Days, Just Like A Woman, When The Ship Comes In, You Ain't Goin' Nowhere, Just Like Tom Thumb's Blues, All Along The Watchtower, I Shall Be Released, Don't Think Twice, It's All Right, Emotionally Yours, When I Paint My Masterpiece, Absolutely Sweet Marie, License To Kill, Rainy Day Women #12 & 35, Mr. Tambourine Man, It's Alright, Ma (I'm Only Bleeding), My Back Pages, Knockin' On Heaven's Door and Girl Of The North Country.