CHRISTMAS IN THE HEART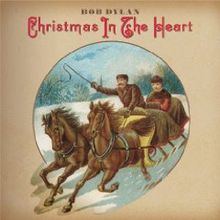 CHRISTMAS IN THE HEART is the thirty-fourth studio album and first Christmas album by Bob Dylan, released on October 13, 2009 by Columbia Records. The album comprises a collection of hymns, carols, and popular Christmas songs. All Dylan's royalties from the sale of this album benefited the charities Feeding America in the USA, Crisis in the UK, and the World Food Programme.
The songbook includes all the songs of the album: Here Comes Santa Claus, Do You Hear What I Hear?, Winter Wonderland, Hark The Herald Angels Sing, I'll Be Home For Christmas, Little Drummer Boy, The Christmas Blues, O' Come All Ye Faithful (Adeste Fideles), Have Yourself A Merry Little Christmas, Must Be Santa, Silver Bells, The First Noel, Christmas Island, The Christmas Song and O' Little Town Of Bethlehem.

UK 2009, Wise Publications 2009,
Music Sales Corporation, London,
"piano, vocal, guitar", 56 pages.
ISBN 978-1-84938-372-1


USA 2009, Amsco Publications,
Hal Leonard Corporation, N.Y.,
56 pages. ISBN 978-0-8256-3730-8