DOWN IN THE GROOVE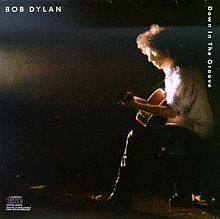 DOWN IN THE GROOVE is the twenty-fifth studio album by Bob Dylan, released on May 30, 1988 by Columbia Records. A highly collaborative effort, it was Dylan's second consecutive album to receive almost unanimous negative reviews. Released during a period when his recording career was experiencing a slump, sales were disappointing, reaching only #61 in the US and #32 in the UK.
Below: The songbook, USA 1988, copyright Special Rider Music, Warner Bros. Publications Inc., NYC, 40 pages.
VF 1434.
It includes all the songs of the album: Let's Stick Together, When Did You Leave Heaven?, Sally Sue Brown, Death Is Not The End, Had A Dream About You, Baby, Ugliest Girl In The World, Silvio, Ninety Miles An Hour (Down A Dead End Street), Shenandoah and Rank Strangers To Me.