SELF PORTRAIT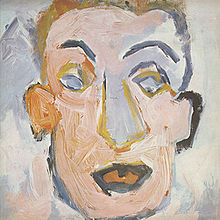 SELF PORTRAIT is the tenth studio album by Bob Dylan, released on June 8, 1970, by Columbia Records. SELF PORTRAIT was Dylan's second double album (after BLONDE ON BLONDE), and features many cover versions of well-known pop and folk songs. Also included are a handful of instrumentals and original compositions.
Most of the album is sung in the affected country crooning voice that Dylan had introduced a year earlier on NASHVILLE SKYLINE. Seen by some as intentionally surreal and even satirical at times, SELF PORTRAIT received extremely poor reviews upon release; Greil Marcus' opening sentence in his ROLLING STONE review was: "What is this shit?"
Below are the songbooks, copyright Big Sky Music, 1970. They include all the songs of the album.

Thank you to Peter Oudejans for the scans from his collection.

USA, Bob Dylan Words and Music Co.Inc, N.Y., Warner Bros., NY. Arranged by Joe Abbe. Edited by Dan Fox. Book design by Sybil D'Orsi, 1st Edition. 72 pages




USA, Bob Dylan Words and Music Co.Inc, N.Y., B.Feldman & Co Ltd., arranged for piano, guitar and vocal, with chord diagrams plus many great colour and black and white pictures. 72 pages.
TMK 375-60

UK, Big Ben Music Ltd, London, distributed by EMI Music Publishing, 72 pages with photos. Includes a reprint of Norman Dolph's article from ROCK Magazine.



The Dutch songsbooks below were published by Schaltone Music Publishers / Productions, Haarlem. They present a selection of 12 songs from the album, with a variant on the paper used for the front cover.
This is 'Album 4' of a series of 4; see others: 1. BLONDE ON BLONDE, 2. JOHN WESLEY HARDING, and 3. NASHVILLE SKYLINE. Thank you to Peter Oudejans and Tom Willems for the scans and information.

Haarlem, Tulpenkade 1, dull cover.

same, alternate: white logo and black title, glossy cover.

same, back



Germany, Rolf Budde Musikverlag, Berlin (West), 12 songs from the album, 38 pages.