TOGETHER THROUGH LIFE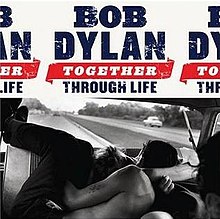 TOGETHER THROUGH LIFE is the thirty-third studio album by singer-songwriter Bob Dylan, released on April 28, 2009, by Columbia Records. The album debuted at number one in several countries, including the U.S. and the UK. It is Dylan's first number one in Britain since NEW MORNING in 1970.
Dylan wrote all but one of the album's songs with Grateful Dead lyricist Robert Hunter, with whom he had previously co-written two songs on his 1988 album DOWN IN THE GROOVE. In an interview with Rolling Stone magazine, Dylan commented on the collaboration: 'Hunter is an old buddy, we could probably write a hundred songs together if we thought it was important or the right reasons were there... He's got a way with words and I do too. We both write a different type of song than what passes today for songwriting.'
The only other writer Dylan has ever collaborated with to such a degree is Jacques Levy,
with whom he wrote most of the songs on DESIRE in 1976.
The album received two Grammy Award nominations in Best Americana Album category
and "Best Solo Rock Vocal Performance" category for Beyond Here Lies Nothin'.
Below: The songbook, copyright Special Rider Music/Ice-Nine Publishing, Amsco Publications, NY, The Music Sales Group 2009, London / New York / Paris / Sydney / Copenhaguen / Berlin / Tokyo / Madrid. ISBN 978-0-8256-3721-6.
It includes all the songs of the album: Beyond Here Lies Nothin', Life Is Hard, My Wife's Home Town, If You Ever Go To Houston, Forgetful Heart, Jolene, This Dream Of You, Shake Shake Mama, Feel A Change Comin' On and It's All Good.