TEMPEST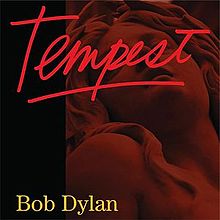 TEMPEST is the thirty-fifth studio album by Bob Dylan, released on September 10, 2012 by Columbia Records. The album was recorded at Jackson Browne's Groove Masters Studios in Santa Monica, California. Dylan wrote all of the songs himself with the exception of the track "Duquesne Whistle", which he co-wrote with Robert Hunter.
TEMPEST received universal acclaim from music critics, who praised its traditional music influences and Dylan's dark lyrics. The album peaked at number three on the Billboard 200.
Below: The songbook, copyright Special Rider Music, Wise Publications, London, part of the Music Sales Group, London / New York / Paris / Sydney / Copenhaguen / Berlin / Tokyo / Madrid. 80 pages. ISBN 978-1-78038-833-5.
It includes all the songs of the album: Duquesne Whistle, Soon After Midnight, Narrow Way, Long And Wasted Years, Pay In Blood, Scarlet Town, Early Roman Kings, Tin Angel, Tempest and Roll On John.