GOOD AS I BEEN TO YOU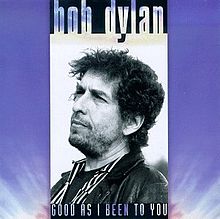 GOOD AS I BEEN TO YOU is the twenty-eighth studio album by Bob Dylan,
released on November 3, 1992, by Columbia Records.
It is composed entirely of traditional folk songs and covers,
and is Dylan's first entirely solo, acoustic album since ANOTHER SIDE OF BOB DYLAN in 1964.
It is also his first collection not to feature any original compositions since DYLAN in 1973.
Below: The songbook, USA 1993, copyright Special Rider Music, Amsco Publications, NY, Music Sales Corporation, 30 pages. US ISBN 0.8256.1355.8, UK ISBN 0.7119.3372.3.
It includes all the songs of the album: Frankie & Albert, Jim Jones, Blackjack Davey, Canadee-I-O, Sittin' On Top Of The World, Little Maggie, Hard Times, Step It Up And Go, Tomorrow Night, Arthur McBride, You're Gonna Quit Me, Diamond Joe and Froggie Went A Courtin'.