THE FREEWHEELIN' BOB DYLAN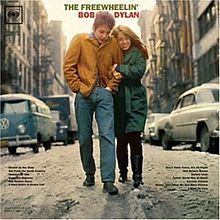 THE FREEWHEELIN' BOB DYLAN is the second studio album by Bob Dylan,
released on May 27, 1963 by Columbia Records.
Whereas his self-titled debut album Bob Dylan had contained only two original songs, FREEWHEELIN' represented the beginning of Dylan's writing contemporary words to traditional melodies. Eleven of the thirteen songs on the album are Dylan's original compositions. The album opens with "Blowin' in the Wind", which became an anthem of the 1960s, and an international hit for folk trio Peter, Paul & Mary soon after the release of FREEWHEELIN'.
Below are the songbooks of the album. They were copyrighted in 1963 by Warner Bros. Inc, renewed by Special Rider Music in 1991.
They must not be confused with the compilation having the same title.
They include all the songs of the album: Blowin' In The Wind, Girl From The North Country, Masters Of War, Down The Highway, Bob Dylan's Blues, A Hard Rain's A-Gonna Fall, Don't Think Twice, It's All Right, Bob Dylan's Dream, Oxford Town, Talking World War III Blues, Corrina, Corrina, Honey, Just Allow Me One More Chance and I Shall Be Free.

Thank you to Peter Oudejans for the scans from his collection.
| | | |
| --- | --- | --- |
| Japan 1996, Band Score Series, Shinko Music Pub. Co., Ltd., 118 pages | Japan 1996, Guitar Score, Wide Edition, Shinko Music Entertainment Co. Ltd., 118 pages. ISBN 978-4-401-16106-5 | UK 2017, Wise publications, part of the Music Sales Group, 'Classic Albums, Melody, Guitar chords and full lyrics', with introduction by Mark Eilen and notes by several 'specialists in the industry', 32 pages. ISBN 978-1785585487 |