TIME OUT OF MIND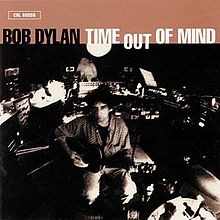 TIME OUT OF MIND is the thirtieth studio album by Bob Dylan,
released on September 30, 1997, by Columbia Records.
It was his first double studio album (on vinyl) since SELF PORTRAIT in 1970.
It was also released as a single CD.
For many fans and critics, the album marked Dylan's artistic comeback
after he appeared to struggle with his musical identity throughout the 1980s;
he had not released any original material for seven years, since UNDER THE RED SKY in 1990.
TIME OUT OF MIND is hailed as one of Dylan's best albums,
and it went on to win three Grammy Awards, including Album of the Year in 1998.
It was also ranked number 408 on Rolling Stone's 500 Greatest Albums of All Time in 2003.
Below, the songbooks, copyright Special Rider Music.
They include all the songs of the album: Love Sick, Dirt Road Blues, Standing In The Doorway, Million Miles, Tryin' To Get To Heaven, 'Til I Fell In Love With You, Not Dark Yet, Cold Irons Bound, Make You Feel My Love, Can't Wait and Highlands.

USA 1997, Amsco Publications, 48 pages.
ISBN US 08258 16220,
ISBN UK 0711967334




UK 2017, Special Rider Music, Wise publications, part of the Music Sales Group, 'Classic Albums, Melody, Guitar chords and full lyrics', with introduction by Peter Doggett and notes by several 'specialists in the industry', 40 pages.
ISBN 978-1785585500