PLANET WAVES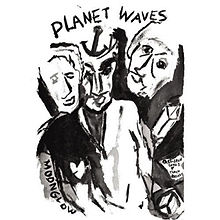 PLANET WAVES is the fourteenth studio album by Bob Dylan, released on January 17, 1974 by Asylum Records in the United States and Island Records in the United Kingdom.
Dylan is supported on the album by longtime collaborators the Band, with whom he embarked on a major reunion tour (documented on the live album BEFORE THE FLOOD) following its release (the tour started a couple weeks before release -though Asylum had wanted the album out first).
With a successful tour and a host of publicity, PLANET WAVES was a hit, enjoying a brief stay at #1 on the US Billboard charts'a first for the artist'and #7 in the UK. Critics were not as negative as they had been with some then-recent Bob Dylan albums (namely SELF PORTRAIT and DYLAN), but still not enthusiastic
for the album's brand of laid-back roots rock.
Below are the songbooks, copyright Ram's Horn Music, 1974.
Except from the Italian one, they include all the songs of the album: On A Night Like This, Going, Going, Gone, Tough Mama, Hazel, Something There Is About You, Forever Young (2 versions), Dirge, You Angel You, Never Say Goodbye and Wedding Song.

USA, Ram's Horn Music, Alfred Publishing Co. Inc., textured cover, 'Bob Dylan' printed in gold on front, 74 pages.

UK, Big Ben Music Ltd, B. Feldman & Co. Ltd., 74 pages textured cover



Australia, J. Albert & Son Pty. Ltd, # AL 2714G, 74 pages




Germany, Austria and Switzerland, Ram's Horn Music, Rolf Budde Musikverlag KG, Berlin . Jürgen Wasser's collection





Italy, "8 Successi Di Bob Dylan": 8 songs only from the album, Tough Mama and Dirge are missing. Edizioni Curci, Milano for Italy, 68 pages. Consists of four booklets: "the main one" 24 pages, and the 3 others below:
Italy, second volume: "Testi", 4 pages

Italy, third volume: "Strumenti In Do", 24 pages

Italy, fourth volume: "Strumenti In Sib", 16 pages