JOHN WESLEY HARDING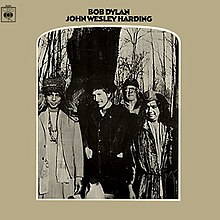 JOHN WESLEY HARDING is the eighth studio album by Bob Dylan, released on December 27, 1967 by Columbia Records. Produced by Bob Johnston, the album marked Dylan's return to acoustic music and traditional roots,
after three albums of electric rock music.
JOHN WESLEY HARDING shares many stylistic threads with, and was recorded around the same time as, the prolific series of home recording sessions with the Band, partly released in 1975 as THE BASEMENT TAPES, and released in complete form in 2014 as THE BOOTLEG SERIES VOL. 11: THE BASEMENT TAPES COMPLETE.
Below: The songbooks, Dwarf Music copyright, music and lyrics of 12 songs, published in 1968 by Bob Dylan Words and Music Co. Inc.
The US and UK editions include a full-page essay, "The Return of Bob Dylan", by Alfred G. Aronowitz, a two-page essay, "His Best Yet", by Gordon Mills from Rolling Stone and a full-page piece, "John Wesley Harding", written by Bob Dylan.
The songbooks include all the songs of the album: John Wesley Harding, As I Went Out One Morning, I Dreamed I Saw St. Augustine, All Along the Watchtower, The Ballad of Frankie Lee and Judas Priest, Drifter's Escape, Dear Landlord, I Am a Lonesome Hobo, I Pity the Poor Immigrant, The Wicked Messenger, Down Along the Cove and I'll Be Your Baby Tonight.
Thank you to Peter Oudejans for the scans from his collection.

USA, Dylan Style Guitar Edition, Robbins Feist Miller, The Big 3, B3-Z017, 32 pages

USA, Big 3, hardcover, 40 pages



USA, Big 3, 40 pages




USA, Robbins-Feist-Miller, The Big 3, 40 pages



UK, Dylan Style Guitar edition. B. Feldman & Co Ltd, London, Z017, 32 pages

UK, B. Feldman & Co. Ltd, London, 40 pages



Germany, Rolf Budde Musikverlag, Berlin, 28 pages

Sweden, Sonora Musikforlags AB, 40 pages
The Dutch songsbooks below were published by Schaltone Music Publishers / Productions, first established at Heemstede, then at Haarlem. There are different adresses on the front covers, variants on the front cover and different back covers. 20 pages.
This is 'Album 2' of a series of 4; see others: 1. BLONDE ON BLONDE, 3. NASHVILLE SKYLINE, and 4. SELF PORTRAIT. Thank you to Peter Oudejans and Tom Willems for the scans and information.

Heemstede, Heemsteedse Dreef 287

same, alternate colour



same, back


Heemstede, Bronsteeweg 49, same backcover as Heemstede Dreef version

Haarlem, Tulpenkade, glossy cover, black title, white logo

same, back



same, alternate colour, black star and logo, white title