KNOCKED OUT LOADED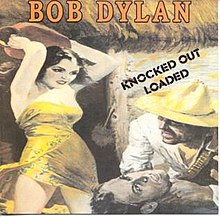 KNOCKED OUT LOADED is the twenty-fourth studio album by Bob Dylan, released on July 14, 1986 by Columbia Records. The album was received poorly upon release, and is still considered by some critics to be one of Dylan's least-engaging efforts. However, the 11-minute epic "Brownsville Girl", co-written by Sam Shepard, has been cited as one of his best songs by some critics.
Below: The songbook, USA 1986, copyright Special Rider Music, Warner Bros Publications Inc. NYC, 36 pages. VF1329.
It includes all the songs of the album: You Wanna Ramble, They Killed Him, Driftin' Too Far From Shore, Precious Memories, Maybe Someday, Brownsville Girl, Got My Mind Made Up and Under Your Spell.