BOB DYLAN / THE BAND - BEFORE THE FLOOD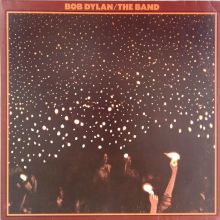 BEFORE THE FLOOD, live album by Bob Dylan and The Band, was released on June 20, 1974, on Asylum Records in the United States and Island Records in the United Kingdom. It was Dylan's first live album, although live recordings of earlier performances would later be released. It is the 15th album by Dylan and the seventh by the Band, and documents their joint 1974 American tour. It peaked at No.  3 on the Billboard 200, reached No.  8 on the popular album chart in the UK, and has been certified Platinum by the Recording Industry Association of America.
Below is the songbook, - SONGS & PICTURES FROM THE AMERICAN TOUR '74. Warner Bros. Publications Inc. & The D.B. Production Company, Barry Feinstein Photography Design. 86 pages plus 15 pages of photos.
It includes all the songs of the album: Most Likely You Go Your Way (And I'll Go Mine), Lay Lady Lay, Rainy Day Women #12 & 35, Knockin' On Heaven's Door, It Ain't Me, Babe, Ballad Of A Thin Man, Up On Cripple Creek, I Shall Be Released, Endless Highway, The Night They Drove Old Dixie Down, Stage Fright, Don't Think Twice, It's All Right, Just Like A Woman, It's Alright Ma (I'm Only Bleeding), The Shape I'm In, When You Awake, The Weight, All Along The Watchtower, Highway 61 Revisited, Like A Rolling Stone and Blowin' In The Wind.