SHOT OF LOVE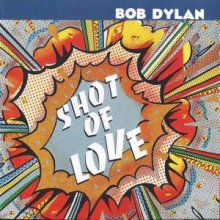 SHOT OF LOVE is the twenty-first studio album by Bob Dylan, released on August 10, 1981 by Columbia Records. It is considered to be Dylan's last of a trilogy of Christian albums.
Arrangements are rooted more in rock'n'roll, and less in gospel than Dylan's two previous albums.
At the time of its release, SHOT OF LOVE received mixed reviews; Paul Nelson of ROLLING STONE criticised the album, though he did single out the last track "Every Grain of Sand," as a stand-out. SHOT OF LOVE, while reaching UK No. 6, continued Dylan's US commercial decline, reaching No. 33 during a brief chart stay. Bono of Irish band U2 described the album as one of his favourites, particularly due to Dylan's singing ability.
The songbook, copyright Special Rider Music was published in 1981; it has 56 pages, lyrics, music, guitar chords and frames.
It includes all the songs of the album: Shot Of Love, Heart Of Mine, Property Of Jesus, Lenny Bruce, Watered-Down Love, Dead Man, Dead Man, In The Summertime, Trouble and Every Grain Of Sand.

USA, Warner Bros. Publications Inc., NYC,
VF0985



UK, Big Ben Music Ltd., London,
EMI Music Publishing
ISBN 0-86175-272-4