BOB DYLAN AND THE BAND THE BASEMENT TAPES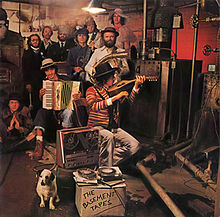 THE BASEMENT TAPES is a studio album by Bob Dylan and The Band. It was released on June 26, 1975, by Columbia Records and is Dylan's 16th studio album. The songs featuring Dylan's vocals were recorded in 1967, eight years before the album's release, at Big Pink and other houses in and around Woodstock, New York, where Dylan and The Band lived. Although most of the Dylan songs had appeared on bootleg records, THE BASEMENT TAPES marked the songs' first official release.
Below are the songbooks, copyright Dwarf Music, 80 pages.
They include all the songs of the album: Odds And Ends, Orange Juice Blues (Blues For Breakfast), Million Dollar Bash, Yazoo Street Scandal, Goin' To Acapulco, Katie's Been Gone,9 Lo And Behold!, Bessie Smith, Clothes Line Saga, Apple Suckling Tree, Please, Mrs. Henry, Tears Of Rage, Too Much Of Nothing, Yea! Heavy And A Bottle Of Bread, Ain't No More Cane, Crash On The Levee (Down In The Flood), Ruben Remus,1 Tiny Montgomery, You Ain't Goin' Nowhere, Don't Ya Tell Henry, Nothing Was Delivered, Open The Door, Homer, Long Distance Operator and This Wheel's On Fire.
| | | |
| --- | --- | --- |
| USA 1975, Cherry Lane Music Co, N.Y. | UK 1975, Big Ben Music Ltd. London, distributed by EMI Music Publishing Ltd. | Italy 1980, Edizioni Curci, Milan, # E.9973C. |