SHADOWS IN THE NIGHT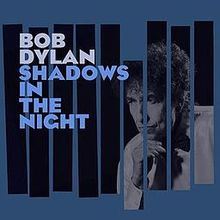 SHADOWS IN THE NIGHT is the thirty-sixth studio album by Bob Dylan, released by Columbia Records on February 3, 2015. The album consists of covers of traditional pop standards made famous by Frank Sinatra, chosen by Dylan.
Speaking of his intention behind the album, Dylan stated: "I don't see myself as covering these songs in any way. They've been covered enough. Buried, as a matter a fact. What me and my band are basically doing is uncovering them. Lifting them out of the grave and bringing them into the light of day."
The album has received universal acclaim from critics for its unexpected and strong song selection and for the strength of Dylan and his band's performance and arrangements. The album debuted at number one on the UK Albums Chart, making Dylan the oldest male solo artist to chart at number one in the UK.
Below: The songbook, Wise Publications, London, part of the Music Sales Group, 2015, 40 pages, piano, vocal, guitar. ISBN 978-1-78558-010-9.
It includes all the songs of the album: I'm A Fool To Want You, The Night We Called It A Day, Stay With Me, Autumn Leaves, Why Try To Change Me Now, Some Enchanted Evening, Full Moon And Empty Arms, Where Are You?, What I'll Do and That Lucky Old Sun.