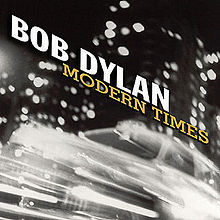 MODERN TIMES is the thirty-second studio album by Bob Dylan, released on August 29, 2006 by Columbia Records. The album was Dylan's third straight (following TIME OUT OF MIND and "LOVE AND THEFT") to be met with nearly universal praise from fans and critics. It continued its predecessors' tendencies toward blues, rockabilly and pre-rock balladry, and was self-produced by Dylan under the pseudonym "Jack Frost".
Despite the acclaim, the album sparked some debate over its uncredited use of choruses and arrangements from older songs, as well as many lyrical lines taken from the work of 19th-century poet Henry Timrod.
Below: The songbook, USA 2006, copyright Special Rider Music, Amsco Publications NYC, Music Sales Corporation, 40 pages. ISBN 0-8256-3497-0.
It includes all the songs of the album: Thunder On The Mountain, Spirit On The Water, Rollin' And Tumblin', When The Deal Goes Down, Someday Baby, Workingman's Blues #2, Beyond The Horizon, Nettie Moore, The Levee's Gonna Break and Ain't Talkin'.