FALLEN ANGELS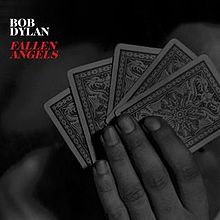 FALLEN ANGELS is the thirty-seventh studio album by Bob Dylan,
released by Columbia Records on May 20, 2016.
The album consists of cover versions of twelve classic American songs chosen by Dylan from a diverse array of writers such as Johnny Mercer, Harold Arlen, Sammy Cahn and Carolyn Leigh. Much like the album's predecessor, SHADOWS IN THE NIGHT, every song on the album, except for Skylark, was once recorded by Frank Sinatra.
Below: The songbook, Wise Publications, London, part of the Music Sales Group, 64 pages.
ISBN 978-1-78558-350-6.
It includes all the songs of the album: Young At Heart, Maybe You'll Be There, Polka Dots And Moonbeams, All The Way, Skylark, Nevertheless, All Or Nothing At All, On A Little Street In Singapore, It Had To Be You, Melancholy Mood, That Old Black Magic and Come Rain Or Come Shine.