EMPIRE BURLESQUE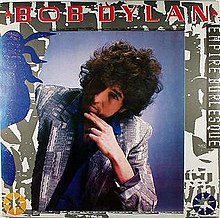 EMPIRE BURLESQUE is the twenty-third studio album by Bob Dylan, released on June 10, 1985 on Columbia Records. Self-produced, the album peaked at number thirty-three in the US and at number eleven in the UK.
Accompanied by multiple session musicians -including members of Tom Petty and the Heartbreakers, Mike Campbell, Benmont Tench and Howie Epstein- the album has a distinct "80s style" aesthetic. Fans and critics continue to debate the album's merits, especially when compared to his 1960s and 1970s output.
Below: The songbook, USA 1985, copyright Special Rider Music, Warner Bros Publications Inc., 52 pages.
VF 1230.