EMPIRE BURLESQUE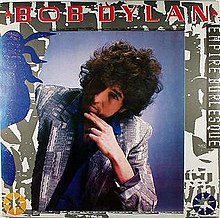 EMPIRE BURLESQUE is the twenty-third studio album by Bob Dylan, released on June 10, 1985 on Columbia Records. Self-produced, the album peaked at number thirty-three in the US and at number eleven in the UK.
Accompanied by multiple session musicians -including members of Tom Petty and the Heartbreakers, Mike Campbell, Benmont Tench and Howie Epstein- the album has a distinct "80s style" aesthetic.
Fans and critics continue to debate the album's merits, especially when compared to his 1960s and 1970s output.
Below is the songbook, USA 1985, copyright Special Rider Music, Warner Bros Publications Inc., 52 pages.
VF 1230.
It includes all the songs of the album: Tight Connection To My Heart (Has Anybody Seen My Love), Seeing The Real You At Last, I'll Remember You, Clean Cut Kid, Never Gonna Be The Same Again, Trust Yourself, Emotionally Yours, When The Night Comes Falling From The Sky, Something's Burning Baby and Dark Eyes.