"LOVE AND THEFT"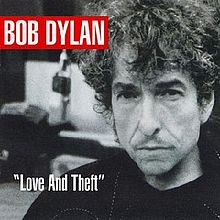 "LOVE AND THEFT" (generally referred to as LOVE AND THEFT) is the thirty-first studio album by Bob Dylan, released on September 11, 2001, by Columbia Records. It featured backing by his touring band of the time,
with keyboardist Augie Meyers added for the sessions.
It peaked at #5 on the Billboard 200, and has been certified Gold by the RIAA.
Below, the songbook, USA 2001, copyright Special Rider Music, Amsco Publications NYC, Music Sales Corporation, 56 pages. ISBN USA 0.8256.1918.1, UK 0.7119.9134.0.
It includes all the songs of the album: Tweedle Dee & Tweedle Dum, Mississippi, Summer Days, Bye And Bye, Lonesome Day Blues, Floater (Too Much To Ask), High Water (For Charley Patton), Moonlight, Honest With Me, Po' Boy, Cry A While and Sugar Baby.