HIGHWAY 61 REVISITED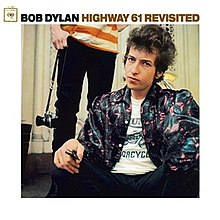 HIGHWAY 61 REVISITED is the sixth studio album by Bob Dylan. It was released on August 30, 1965, by Columbia Records.
Having until then recorded mostly acoustic music, Dylan used rock musicians as his backing band on every track of the album, except for the closing 11-minute ballad, "Desolation Row". Critics have focused on the innovative way in which Dylan combined driving, blues-based music with the subtlety of poetry to create songs that captured the political and cultural chaos of contemporary America. Author Michael Gray has argued that in an important sense the 1960s "started" with this album.
All the songbooks below have the 9 album songs plus Positively 4th street, copyright M. Witmark &Sons, N.Y. They all have piano arrangements by Jerry Sears and 30 pages, except for the Japanese Band score, copyright Special Rider Music, which has the 9 album songs only and 96 pages.
Thank you to Peter Oudejans for the scans from his collection and information.

USA, Warner Bros. Music, NYC. 366 B


USA, Warner Bros., Seven Arts Music,


USA, M. Witmark & Sons, N.Y.


UK, Warner Bros- Seven Arts Music.



UK, Blossom Music Ltd




UK, Warner Bros Music Ltd, London,Music Sales Ltd.,
KY 12071

Japan, 1996, Shinko Music Pub. Co., Ltd., does not include Positively 4th Street, 95 pages.
ISBN 4-401-34890-5