OH MERCY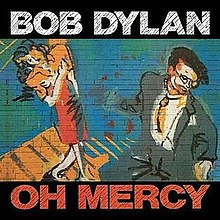 OH MERCY is the twenty-sixth studio album by Bob Dylan, released on September 18, 1989 by Columbia Records. Produced by Daniel Lanois, it was hailed by critics as a triumph for Dylan, after a string of poorly reviewed albums. OH MERCY gave Dylan his best chart showing in years,
reaching #30 on the Billboard charts in the United States and #6 in the UK.
Below: The songbook, USA 1989, copyright Special Rider Music, Amsco Publications, Music Sales Corporation, 80 pages. US ISBN 0.8256.1272.1, UK ISBN 0.7119.2123.7
It includes all the songs of the album: Political World, Where Teardrops Fall, Everything Is Broken, Ring Them Bells, Man In The Long Black Coat, Most Of The Time, What Good Am I?, Disease Of Conceit, What Was It You Wanted and Shooting Star.