THE WITMARK DEMOS: 1962-1964
- THE BOOTLEG SERIES VOL. 9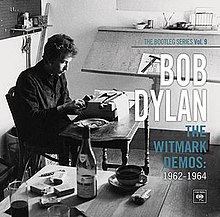 THE BOOTLEG SERIES VOL. 9 - THE WITMARK DEMOS: 1962-1964 is an album of demo recordings by Bob Dylan, made for his first two publishing companies, Leeds Music and M. Witmark & Sons, from 1962 to 1964. The seventh installment of the ongoing Bob Dylan Bootleg Series, it was released on October 19, 2010 on Legacy Records.
It features 47 tracks with Dylan accompanying himself on acoustic guitar, harmonica and occasionally piano. The recordings were only available on pirate recordings until 1991; three of these recordings appeared on the first volume of the series. A fourth demo of Don't Think Twice, It's All Right was included on THE BOOTLEG SERIES VOL. 7: NO DIRECTION HOME - THE SOUNDTRACK. While Dylan recorded subsequent versions of most of the songs, the album features 15 songs that were produced exclusively as demos and had never been heard before except as bootlegs.
Below: The songbook, USA 2011, Amsco Publications London / New York / Paris / Sydney / Copenhaguen / Berlin / Tokyo / Madrid, Hal Leonard Corporation, 96 pages. ISBN 978-0-8256-3761-2