THE WITMARK DEMOS: 1962-1964
- THE BOOTLEG SERIES VOL. 9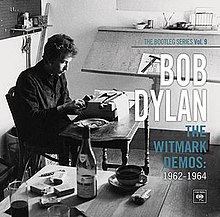 THE BOOTLEG SERIES VOL. 9 - THE WITMARK DEMOS: 1962-1964 is an album of demo recordings by Bob Dylan, made for his first two publishing companies, Leeds Music and M. Witmark & Sons, from 1962 to 1964. The seventh installment of the ongoing Bob Dylan Bootleg Series, it was released on October 19, 2010 on Legacy Records.
It features 47 tracks with Dylan accompanying himself on acoustic guitar, harmonica and occasionally piano. The recordings were only available on pirate recordings until 1991; three of these recordings appeared on the first volume of the series. A fourth demo of Don't Think Twice, It's All Right was included on THE BOOTLEG SERIES VOL. 7: NO DIRECTION HOME - THE SOUNDTRACK. While Dylan recorded subsequent versions of most of the songs, the album features 15 songs that were produced exclusively as demos and had never been heard before except as bootlegs.
Below: The songbook, USA 2011, Amsco Publications London / New York / Paris / Sydney / Copenhaguen / Berlin / Tokyo / Madrid, Hal Leonard Corporation, 96 pages. ISBN 978-0-8256-3761-2.
It includes all the songs of the album: Man On The Street, Hard Times In New York Town, Poor Boy Blues, Ballad For A Friend, Rambling, Gambling Willie, Talking Bear Mountain Picnic Massacre Blues, Standing On The Highway, Man On The Street, Blowin' In The Wind, Long Ago, Far Away, A Hard Rain's A-Gonna Fall, Tomorrow Is A Long Time, The Death Of Emmett Till, Let Me Die In My Footsteps, Ballad Of Hollis Brown, Quit Your Low Down Ways, Baby, I'm In The Mood For You, Bound To Lose, Bound To Win, All Over You, I'd Hate To Be You On That Dreadful Day,1 Long Time Gone, Talkin' John Birch Paranoid Blues, Masters Of War, Oxford Town, Farewell, Don't Think Twice, It's All Right, Walkin' Down The Line, I Shall Be Free, Bob Dylan's Blues, Bob Dylan's Dream, Boots Of Spanish Leather, Girl From The North Country, Seven Curses, Hero Blues, Watcha Gonna Do?, Gypsy Lou, Ain't Gonna Grieve, John Brown,0 Only A Hobo,6 When The Ship Comes In, The Times They Are A-Changin', Paths Of Victory, Guess I'm Doing Fine, Baby, Let Me Follow You Down, Mama, You Been On My Mind, Mr. Tambourine Man, and I'll Keep It With Mine.