TARANTULA, BY BOB DYLAN
TARANTULA is an experimental prose poetry collection, written in 1965 and 1966, widely bootleged and partially published by some undergrounds magazines in the late 60's-early 70's, till it was officially published in 1971. It employs stream of consciousness writing, somewhat in the style of Jack Kerouac, William S. Burroughs, and Allen Ginsberg. One section of the book parodies the Leadbelly's song Black Betty. Reviews of the book liken it to his self-penned liner notes to two of Bob Dylan's albums recorded around the same time, BRINGING IT ALL BACK HOME and HIGHWAY 61 REVISITED.
Dylan would later cite TARANTULA as a book he had never fully signed up to write: 'Things were running wild at that point. It never was my intention to write a book.' He went on to equate the book to John Lennon's nonsensical work In His Own Write, and implied that his former manager Albert Grossman signed up Dylan to write the novel without the singer's full consent... Although it was to be edited by Dylan and published in 1966, his motorcycle accident in July '66 prevented this.
Numerous bootleg versions of the book were available on the black market through 1971, when it was officially published to critical scorn.

Though not being the easiest book to read from cover to cover, TARANTULA was through the years translated into Catalan, Chinese, Croatian, Czech, Danish, Dutch, French, German, Italian, Japanese, Korean, Norwegian, Polish, Portuguese, Romanian, Russian, Serbian, Spanish, Swedish and Turkish... (so far).
1) TARANTULA BOOTLEG EDITIONS:
BOB DYLAN TARANTULA, 76 pages. Early bootleg of the advance copy of Tarantula by Bob Dylan, printed and distributed in the East Village in NY sometime between 1967-1970 by A.J. Weberman. This edition was not stapled: the pages are loose, 38 sheets enclosed in a file folder which is rubber stamped in ink, 'Bob Dylan Tarantula'. The text is printed on one side only, in two columns numbered from 7 to 76.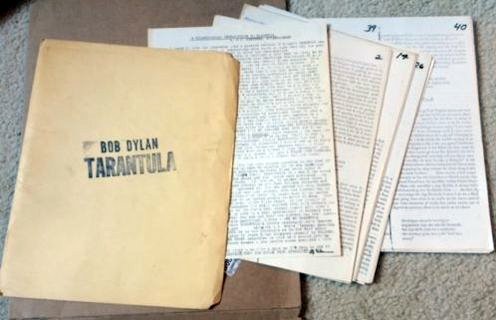 This edition includes the two items above that do not exist in any other bootlegs:
1) 'D.L.F. Buffalo Position Paper - This two sided essay (yellow page) written by Mike Drobenaire, self proclaimed 'D.L.F. Yippie', outlines the beliefs and goals of the D.L.F. (Dylan Liberation Front). The end of the position paper contains contact information for the D.L.F. at the State University of Buffalo.
2) 'A Dylanological Introduction to Tarantula' - This essay, written and signed by Weberman in facsimile (with a hand correction in pen), offers an introduction to Tarantula from Weberman's unique perspective. He discusses 'Dylanological' symbolism in the book, and even gets into his 'garbology' analysis. Weberman is out to lunch in this introduction, touching on topics ranging from Dylan's "late-night suicidal motorcycle accident" to the prescription bottle Weberman found in Dylan's garbage, to a request to contact him "if anyone knows how I can get a sample of Dylan's urine".
Below: TARANTULA BY ROBERT ZIMMERMAN, stamped "by Robert Zimmerman", bootleg edition, 1969, UK, Compendium Books, London. The first edition was sold at The Isle of Wight festival, among other places. White stapled wraps and mimeographed sheets in black ink, repeatedly stamped "TARANTULA by ROBERT ZIMMERMAN" on the front and the back in red, black and blue inks, 56 pages.
Below: same, bootleg edition late 1969 / 1970, UK, A4 size, no publisher's name, 61 printed pages.
This edition includes an interview of Bob Dylan by Jann Wenner published in Rolling Stone 29 November 1969.
| | | |
| --- | --- | --- |
| front | alternate front. This copy belonged to Mary Hopkins | page #1 (printed in brown or black) |
Below: some alternate stampings; as they were hand stamped, all the covers were different:
TARANTULA
- ROBERT ZIMMERMAN, blank front cover and inside page, bootleg edition. UK, Wriptoff Books Edition From London, blank gloss card cover, 78 pages
DYLAN - TARANTULA
- A FRAGMENTARY NOVEL , bootleg edition, Booklegger Press 1970, alternate colours of cover. Inside page states: 'Tarantula is the first publication of Booklegger – a small profit organisation. Of this edition 500 copies were printed at an underground location in Albion – October 1970'. (Thank you Paula Radice for the information)
TARANTULA BOB DYLAN, bootleg edition, Wimp Press, Hibbing, MI., 1970, 54 pages. Noted on the cover: "Author's royalties for the sale of this book are being donated to the Caladan Free School. Publisher's profit will contribute to the furtherance of Woodstock Nation."

BOB DYLAN TARANTULA, bootleg edition, White Press, Amsterdam 1970, 79 pages

same, alternate colour



same, White Press Amsterdam 1971, 79 pages



same, alternate colour



same alternate (or same without the cover)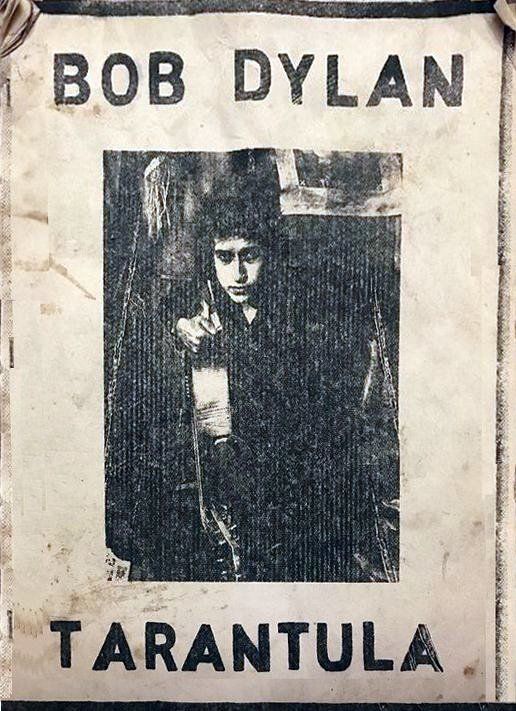 same, bootleg edition, Wimp Press, Hibbing, 1971, 2nd edition, 1000 copies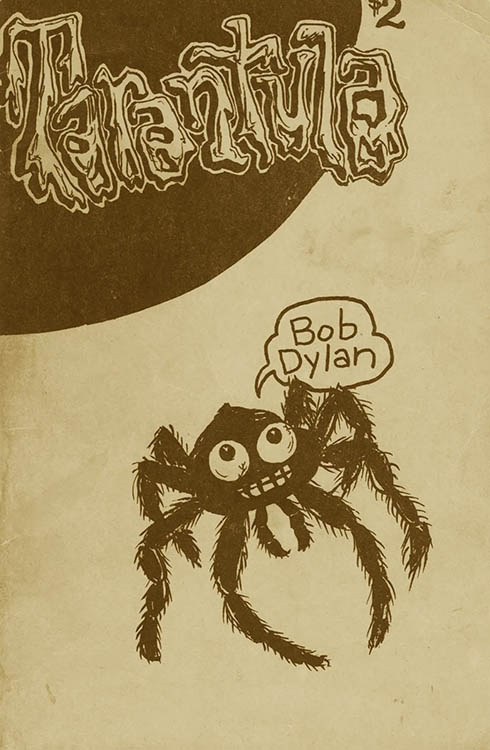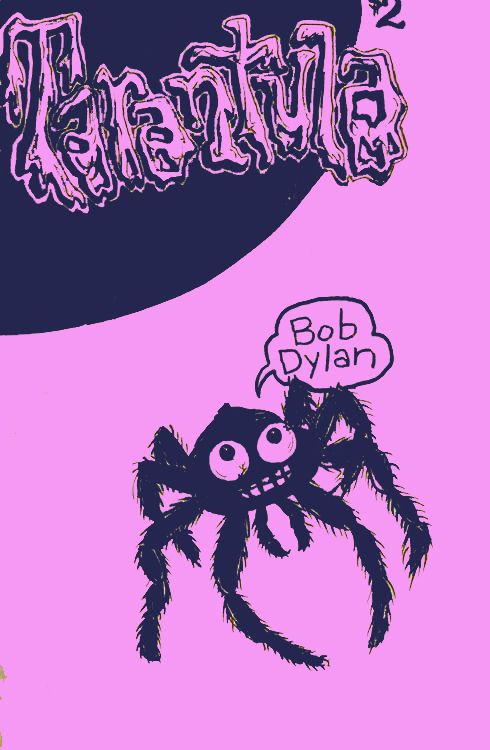 TARANTULA, bootleg, different colours, USA 1971. A.J. Weberman produced this edition with cover by underground cartoonist S. Clay Wilson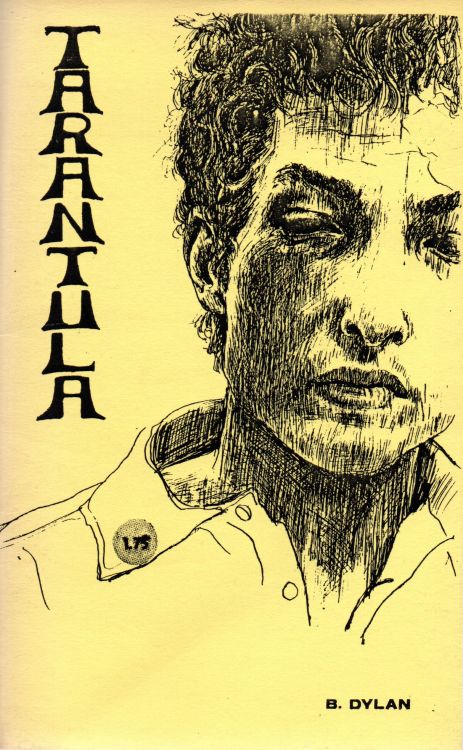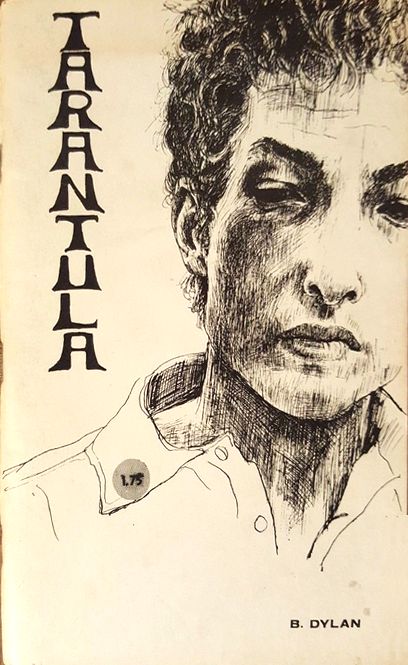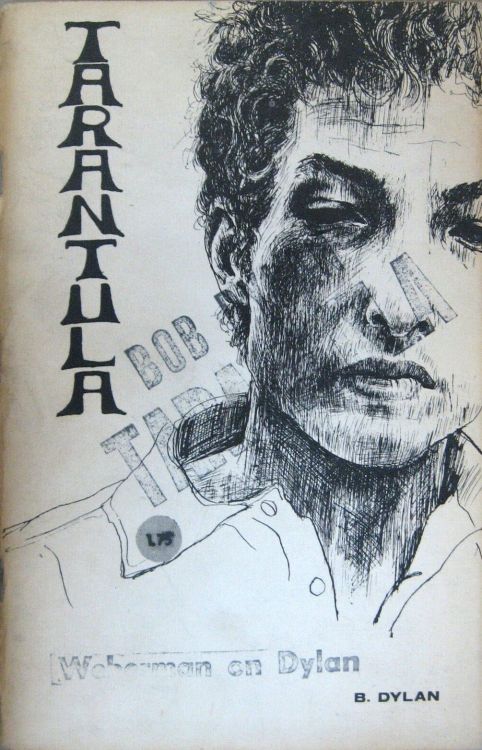 same, bootleg, different colours and one stamped 'Bob Dylan Tarantula' and 'Weberman On Dylan', Madison, WI., 1971. A5, stapled, 96 pages.
| | | |
| --- | --- | --- |
| same, bootleg edition, 61 pages. The cover is a wraparound. The actual book part is 28cm x 22cm and the cover is twice that size (28cm x 44 cm). The card cover, which is cream-coloured and non-glossy, is folded round the text pages and then secured with two staples. Thank you to Ian Woodward for the scan and details. | same, bootleg edition, no information, 61 pages | TARANTULA ROBERT ZIMMERMAN, bootleg edition, no information |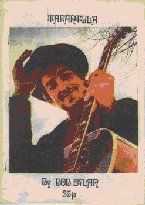 TARANTULA BY BOB DYLAN, bootleg edition, no information. Better scan requested.
2) TARANTULA PARTIAL PUBLICATIONS:
Apart from complete bootleg editions, some underground magazines published extracts of Bob Dylan's book:

REGION 5, last issue (undated, may be 1967). The magazine includes the first chapter from TARANTULA, however in a form somewhat different from the published text. Titled in the book: 'Guns, the Falcon's Mouthbook & Gashcat Unpunished' the chapter appears here under the title 'Guns, the Falcon's Notebook & Gasheat Unpunished' (the second alteration at least, is presumably a typo).


GEORGIA STRAIGHT, 2-9 December 1970, Canada, 16 page supplement to the magazine. After series of excerpts of TARANTULA published in 1968 and stopped by Bob Dylan lawyers, in December 1970, the magazine published the whole book as a supplement. More details here.



HOTCHA! is a publication produced in Switzerland by Urban Gwerder that reproduced in 1971 the pages from GEORGIA STRAIGHT 2-9 December 1970 (Pages 2 – 12 and page 14), with an extract of the Jann Wenner interview where Dylan mentions TARANTULA, and a brief commentary in German. More details here.

SPACE CITY! 25 May 1971, 'Special Pull-Out Music Supplement', includes two pages of excerpts of Bob Dylan's book

BROADSIDE magazine handbill with an extract of the book. Unknown date (1971?)


3) TARANTULA OFFICIAL PUBLICATIONS: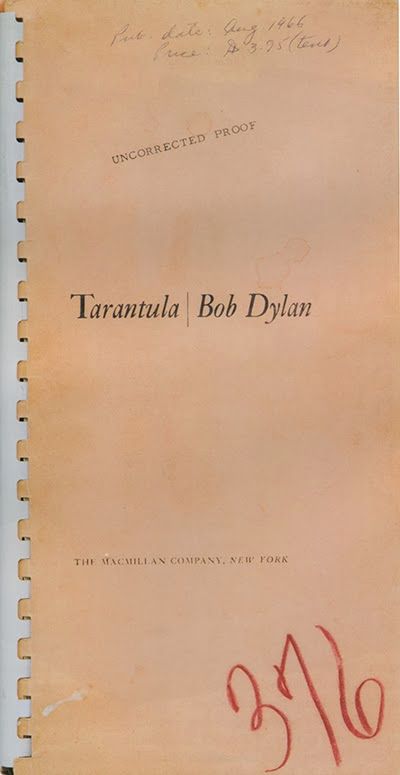 TARANTULA, by Bob Dylan, Macmillan, 1966 uncorrected proof, 68 pages. These proofs - of which only "a few copies" were produced, according to publisher Macmillan's press release - are dated 3 July, 1966 ("376"). A copy, offered for sale ($10,000) in November 2013 wears "pub. date: August 1966 Price: $3.95 (tent.)" in holograph ink at the top of the front cover. The proofs were printed five years before the book was actually published. Read more about it: www.booktryst.com.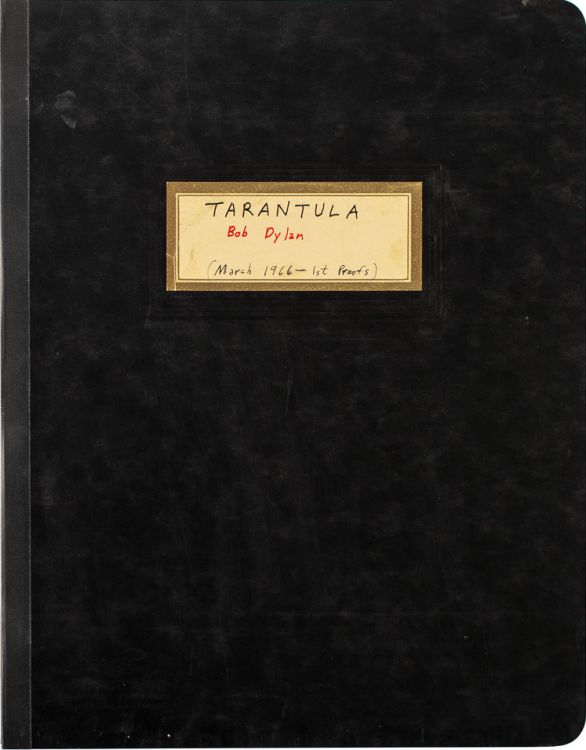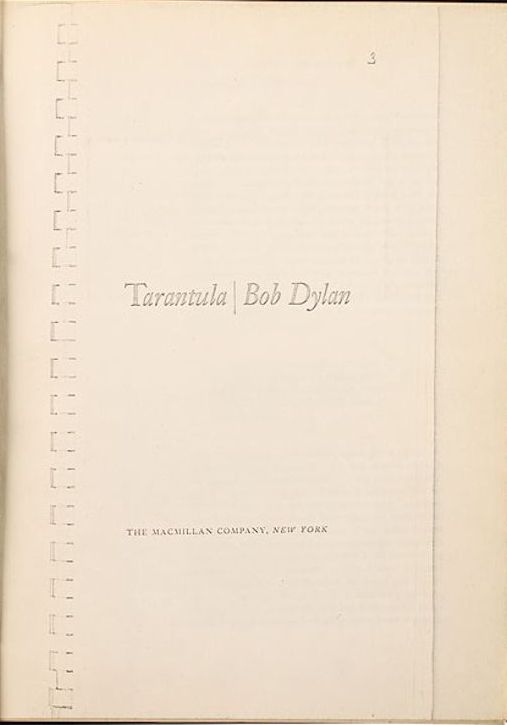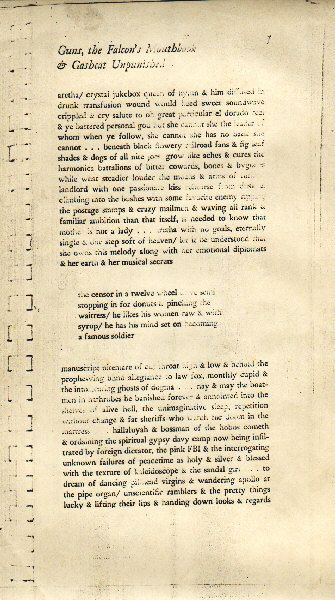 Macmillan original galley or printing proof. The text is the same, but there is more text on each page than released. It is said that the first bootleg editions were made after galley photocopies like this one; 78 pages, with plastic ringbound. (information Magne Karlstad, black binder: Tony Glover's collection)

Unused dust jacket proof for the original hardcover edition of Tarantula, circa 1966




First official publication: The Macmillan Company, NY, 1971, original copyright 1966, hardback, 137 pages



'Custom Aftermarket Slipcase' created by a craftsman in 2021 to house this very collectible book

Taiwan 1971, 'Macmillan', 1st pressing, hardcover. This is probably a pirate edition, only legal in Taiwan when published



MacGibbon & Kee, London 1971, 137 pages, with a comment by Michael Gray on the dustjacket, hardcover. ISBN 0 261 63337 6

NY, Bantam Books June 1972, 149 pages, paperback, No ISBN
A promo poster for this edition can be seen here.



Panther Books 1972, 124 pages, paperback. ISBN 0-586-03753-5





Panther 1973, 124 pages, paperback. ISBN 0-586-03753-5. (This edition has been reprinted with the same cover in 1975 and 1979)

Panther 1975, 124 pages, paperback. ISBN 0-586-03753-5





NY, Penguin Books 1977, 137 pages, paperback. ISBN 0-1400-4572-4




Panther 1979, 124 pages. ISBN 0-586-03753-5





Granada Publishing 1982, UK, paperback, ISBN 0-586-03753-5




St. Martin's Press USA, 1st printing, January 1994, 137 pages, paperback, ISBN 0-312-10554-1

St. Martin's Griffin USA, 2nd printing, 1994, 137 pages, paperback, ISBN 0-312-10554-1

bilingual Swedish/English edition, includes a Klas Burling interview CD, Bakhåll 2000, 192 pages

Scribner, New York City. 2004. 'Advance Uncorrected Proofs – Not For Sale'

Scribner 2004, USA, 137 pages, paperback. ISBN 0-7432-3041-8

Harper Perennial UK, 2005, 116 pages, paperback, ISBN 0-00-721504-5

Harper Perennial 2016, 116 pages, softcover. ISBN: 978-0-00-721504-1. Has "Winner Of The Nobel Prize In Literature 2016" printed on front cover