DYLAN NEWS ISIS, then just ISIS, UK
Editor Derek Barker, with Tracy Barker.
Established in 1985, ISIS ('ISIS DYLAN NEWS' until issue 124) is the longest running paper Bob Dylan magazine still in print. Professionally produced, large A4 format, now a glossy colour publication, "the magazine provides Dylan enthusiasts with a wide-ranging collection of writings on Bob Dylan."
In issue #200 (December 2018), Derek Barker writes: "The first 17 issues were little more than newsletters that I sent free of charge to my ever-expanding circle of Dylan acquaintances, until the photocopying got out of hand and postage became prohibitive". From issue #18, Isis became a real fanzine, made available to subscribers.
Glossy paper from issue #41, full colour cover from #73.
#50 was a 70 page special issue ('50th Anniversary Edition').
Due to the Covid-19 virus pandemic, the printing of #207 was delayed; to 'help negate the lenghly delivery times', a 78-page bumper issue #207-8 was published in June 2020.

ISIS was initially (#1 September 1985 - #17 December 1987) a rather confidential 5-page newsletter.
There were 17 issues and 2 supplements: one called #16 Supplement, and one called Temple In Flames Tour Supplement.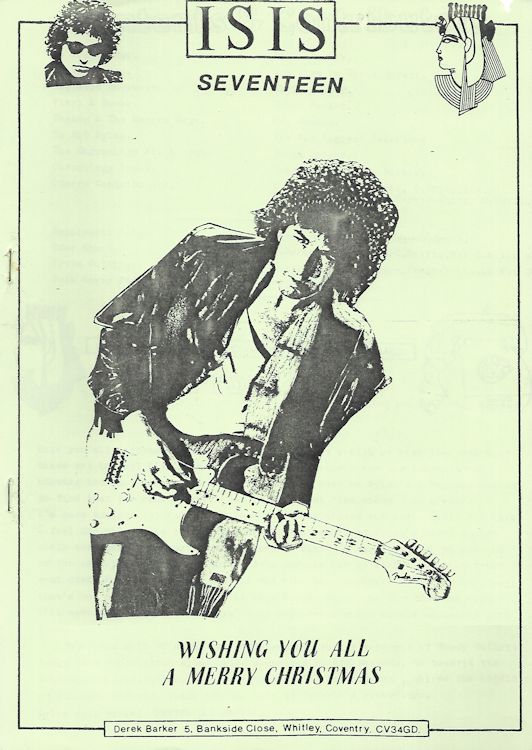 #17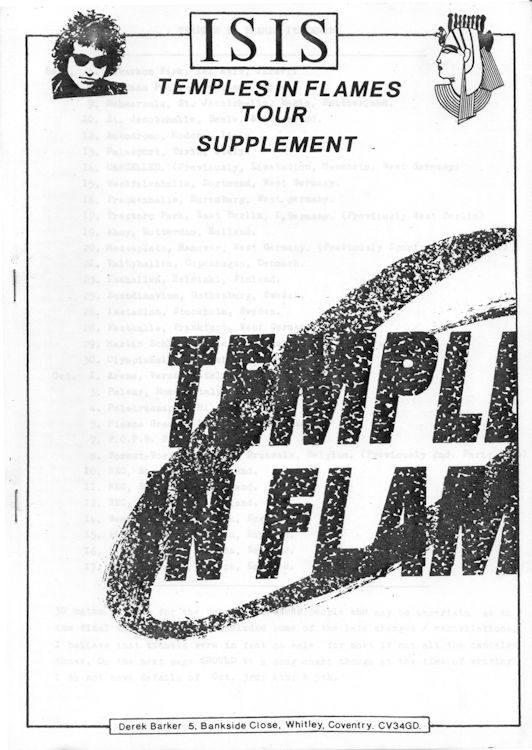 Temple In Flames Tour suppplement.
The 17 first issues were later re-published as ISIS DYLAN NEWS REVISITED #1/7, #8/9, #10/11, #12/13, #14/15 and #16/17, in order to make them available to the new subscribers:
It is only from issue #18 that Isis became a real fanzine, made available to subscribers: