LYRICS, by Bob Dylan
What is more simple to do than gather all Bob Dylan's songs lyrics in a single book, complete at the date of publication? Actually, it was not so easy. WRITINGS AND DRAWINGS BY BOB DYLAN did it, but stopped in 1971... then there was a huge 15 years gap till the mid 80s.
From projects to cancellations, here are the official publications.
Through the years and so far, books presenting translations of Dylan lyrics were published in Albanian, Arabic, Basque, Bulgarian, Chinese, Czech, Danish, Dutch, Finnish, Farsi, French, German, Greek, Hungarian, Italian, Japanese, Korean, Norwegian, Polish, Portuguese, Romanian, Serbian, Slovenian, Spanish, Swedish and Turkish...
Starting late 1960s and especially during the 1970s, many editions of Bob Dylan's lyrics were produced by bootleggers: you can see them here.


USA, uncorrected proof copy of the 1st (unrevised) edition of the book; the cover is powder blue with publisher's information label taped on. Label states: "Tentative Publication Date: October 28, 1985 Tentative Price 21.95 paper on boards."

USA, INCLUDES ALL OF WRITINGS AND DRAWINGS PLUS 120 NEW WRITINGS, Alfred A.Knopf 1985, 528 pages hardback. ISBN-10: 0394542789 ISBN-13: 978-0394542782




UK, Jonathan Cape 1987, 528 pages hardback. ISBN 0-224-024876
Promo documents of this edition can be seen here.





UK, Jonathan Cape Ltd 1987, paperback. ISBN 0-224-02858 8



Paladin/Grafton, 1988, 719 pages, softcover, ISBN 0-586-08647-1

Grafton/Harper Collins, 1993, 719 pages, softcover, ISBN 0-586-08647-1
THE CANCELLED EDITIONS: "Any Day Now, I Shall Be Released..."
| | | |
| --- | --- | --- |
| LYRICS 1962-1996 (pre publication cover) after being delayed for a long time, was finally cancelled. This is the first of three cancelled publications of this book | LYRICS 1962-1999, Jonathan Cape Ltd 2006, paperback, 544 pages. ISBN 978-0224051163. This only exists as a card book cover slick – promo mock up – for a UK edition of LYRICS that was never published. This book was scheduled for publication on December 31, 2001 then cancelled (it got so far as being advertised on Amazon.co.uk). The back cover states £15.00 and gives an ISBN. A new edition was scheduled for December 2019 | LYRICS 1962-2001 (pre-publication cover), cancelled |
| | | |
| --- | --- | --- |
| USA, Simon & Schuster (Trade Division) 2004, hardcover with dust jacket, 624 pages ISBN 0-7432-2827-8 | UK, Simon & Schuster 2006, London, hardcover with dustjacket, 610 pages. ISBN 0-7432-3944-X | UK, Simon & Schuster 2006, London, softcover, 610 pages. ISBN 0-7432-3101-5 |
THE LYRICS. SINCE 1962: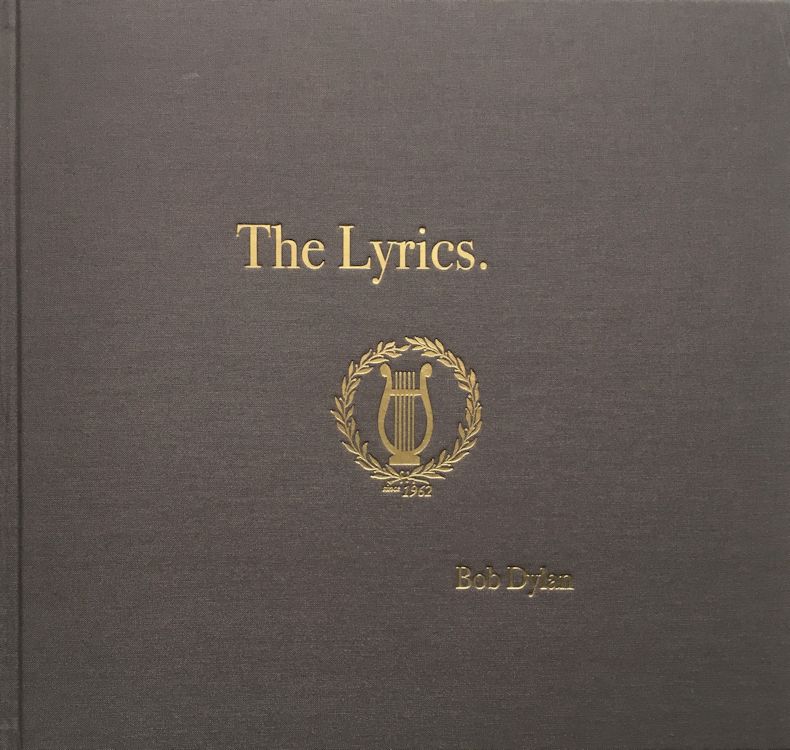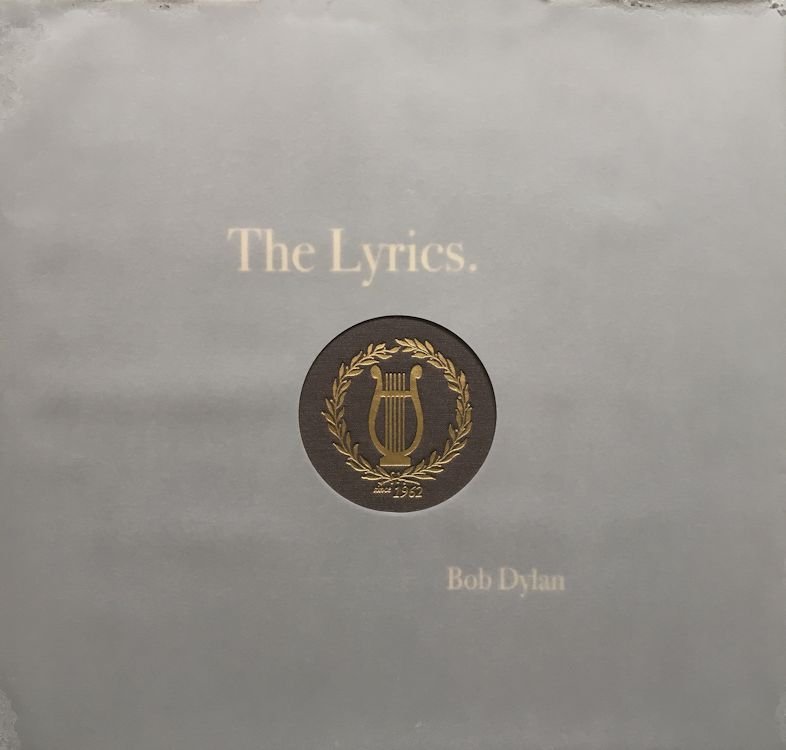 UK, Simon & Schuster Ltd., November 2014, hardback with transparent sleeve, 960 pages. Edited by Christopher Ricks, Lisa Nemrow and Julie Nemrow. 'SINCE 1962' appears on the front cover in very small letters under the laurel wreath.
ISBN 978-1-4711-3709-9. The Big Dylan Book: 7 kg, this is not the one to read in bed!...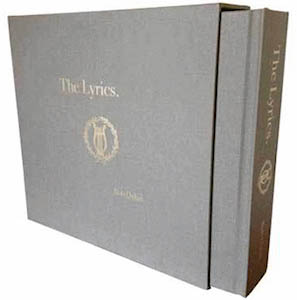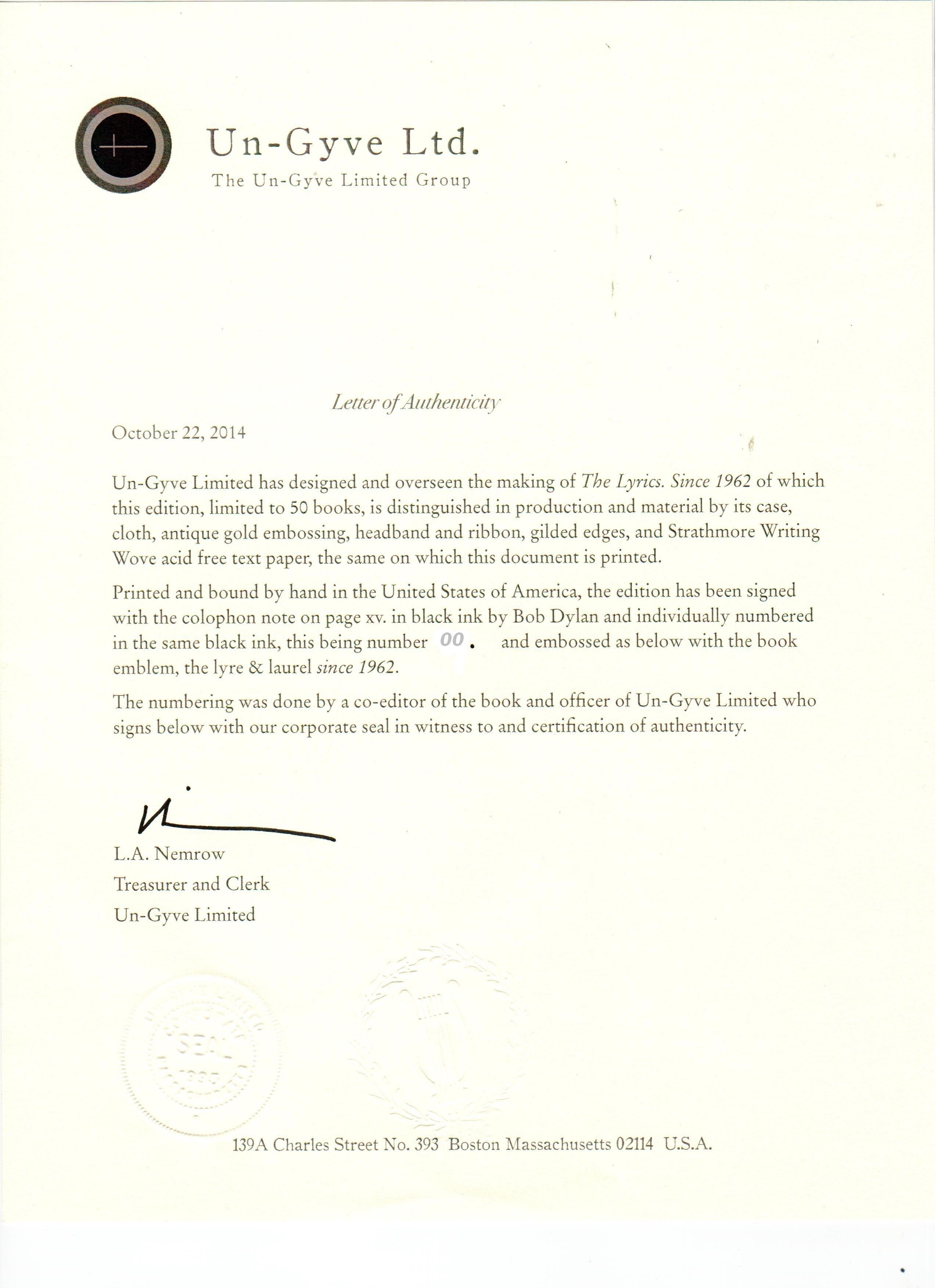 A limited edition of 50 copies only, in a slipcase, signed by Bob Dylan, could by ordered by telephone through Simon & Schuster's: the cost was $5000 (plus taxes of course). It came with a letter of authenticity. (Collection Mani Endtner)
| | | |
| --- | --- | --- |
| USA, Simon & Schuster November 2016, hardback, 768 pages. Same as above, much cheaper edition. ISBN 978145164876 | UK, ISBN 9781471152443-1 | Denmark, THE LYRICS 1961-2012 - TEKSTERNE, Gyldendal 2016, 679 pages, hardcover with dustjacket. This is a Danish book (also listed on the Danish page), but the lyrics are in English only. ISBN 978-87-02-23406-0 |