THE BOB DYLAN BOOKMARKS
The bookmarks presented here are promotional or bonus items that usually come with a book, but not only: they are also made to promote an album, an event, a shop... There are also (see bottom of the page) some home-made bookmarks, made for fun or for $ale...
See below bookmarks for the Books, the Albums, the Special Events, the Shops, Others and the Home Made bookmarks...
Special thanks to Hanns-Peter Bushoff who sent a lot of bookmarks scans from his impressive collection.

front Song And Dance Man III (Michael Gray)


back

front

back Omnibus Press
The Dylan Albums (Anthony Varesi)
Dylan: Behind Close Doors by Clinton Heylin:


front


back

Genesis Publications for 'Bob Dylan In Woodstock'
China (2017): THE LYRICS 1961-2012, 'The Potato Chip 'bags: -see here for more about this very special item-








Korea: THE LYRICS 1961-2012, 3 volumes:

Volume 1, front


Volume 1, back

Volume 2,front


Volume 2, back

Volume 3, front


Volume 3, back

France: Les Parcours de Bob Dylan (Michel Jacques)

France: D'Où Viens-tu Dylan? (Louis Skorecki)

France: Playlist (Charles Berberian)

Greece: Lyrics 1962-2001

Poland: Duszny Craj

Romania: Humanitas fiction for Suflare in Vênt

front

back Spain: La Biografia (Howard Sounes)

Spain: Petando Nas Puertas de Dylan (Galician book)

Spain, 2012: Vols Tornar A Ser Lliure? (Catalan book)

Spain: Ediciones Robinbook front (with Jim Morrison on back)

Spain: Ediciones Malpaso (Catalan language)

Turkey: Paris Yayinlari 2020 (Wicked Messenger)
ALBUMS BOOKMARKS: top of page

front

back France (2005): Sony Musique for exclusive CD
Modern Times (2006):


front

back #1

back #2

front I'm Not There (2007) original soundtrack


back

front

back Together Through Life (2009)

front

back Trouble No More, Sony Germany (2017)
More Blood More Tracks, Sony Germany (2018):


front


back
SPECIAL EVENT BOOKMARKS: top of page

front

back Germany, 1997 Tribute Concert

The Bridge School 18th Annual Concerts (2004) front

-back

Live Nation.com, 2007 concert

Châtillon, Italy, 18 June 2008 concert
The Brazil Series (2010), Statens Museum for Kunst, Copenhagen, Denmark:

front

back #1

back #2
SHOPS BOOKMARKS: top of page

Rolling Tomes #1

#2

#3

front

back Japan: Disk Union (a chain of stores) offered you this 'gift' item when you bought something in their book shop in Autumn 2012. It is a 13,5 cm x 4,5 cm Bob Dylan bookmark, made from glossy thick card. The two pics are: Record Collector's Magazine, issue October 2012 and CD Tempest, Japanese limited edition (Sony SICP 3663). The bookmark was released seperate from the Tempest CDs, it's just a gift. Thanks to Wil Gielen for the scan and information.
OTHER BOOKMARKS: top of page

front

back Hibbing Public Library
Set of Dylan quotes bookmarks, as decribed by the seller (Azeeda): "A charming set of three laser engraved bookmarks. The bookmarks are 191mm high by 45mm wide and come in a set of three. They are 1.5mm thick and are made out of a high quality birch plywood from sustainable sources.
Each of the bookmarks has a slightly different shaped 'top' for a little variation, although each have a hole to thread through some twine or rope. We recommend using Dette's 2mm Satin Rope; this is available in a range of beautiful colours.
Each bookmark is laser engraved and cut and so may have a delightful 'smoky wood' aroma on receipt - unfortunately, this will fade fairly quickly. You may choose to give the bookmarks a very light sanding / buffing to remove any signs of the laser engraving method but many people leave them untouched for that authentic look."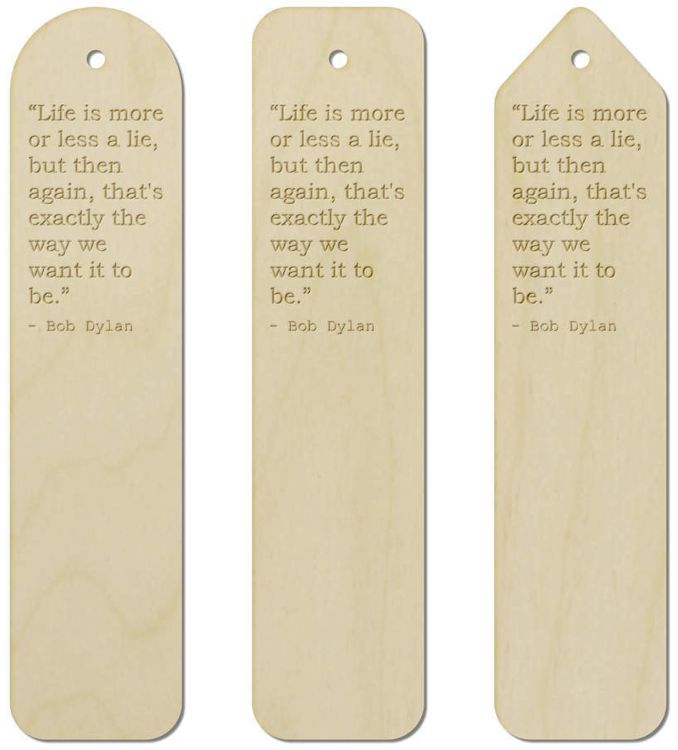 quote #1: "Life is more or less a lie, but then again, that's exactly the way we want it to be"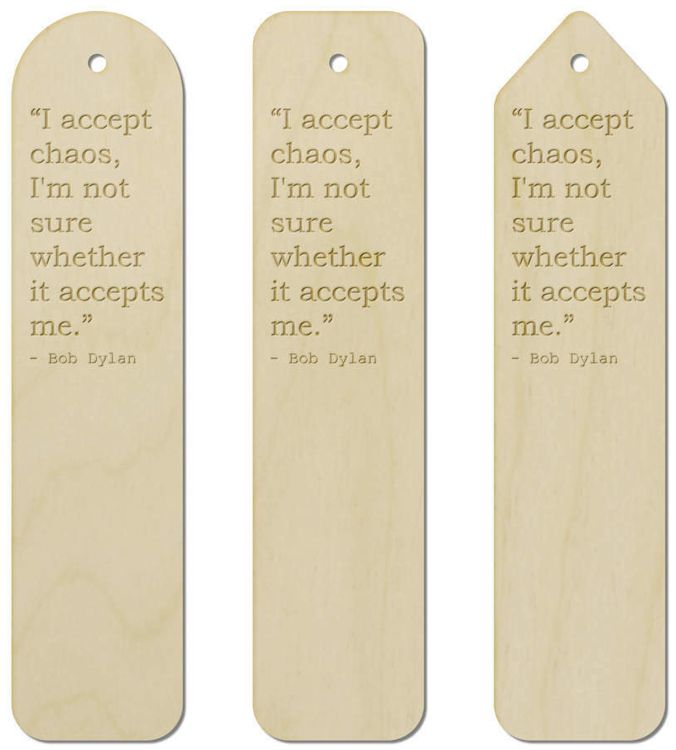 quote #2: "I accept chaos, I'm not sure whether it acccepts me"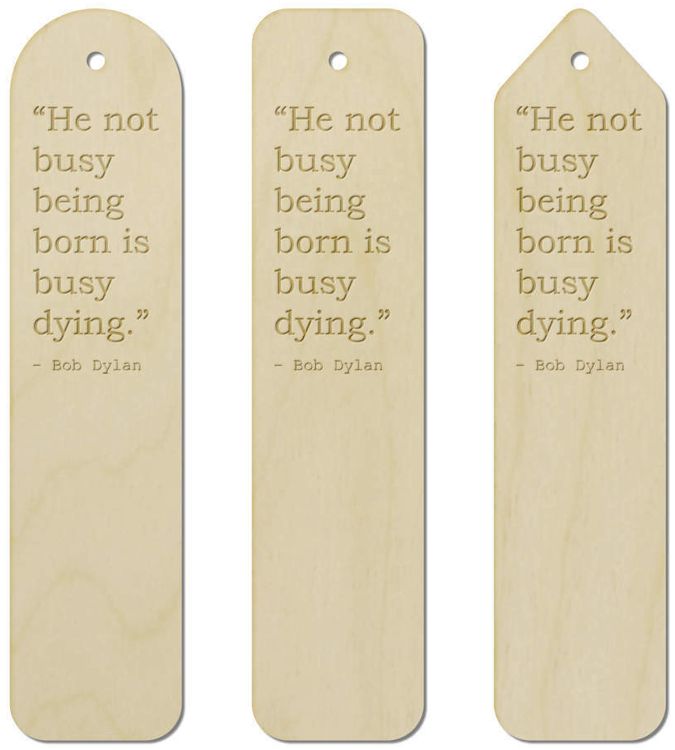 quote #3: "He not being born is busy dying"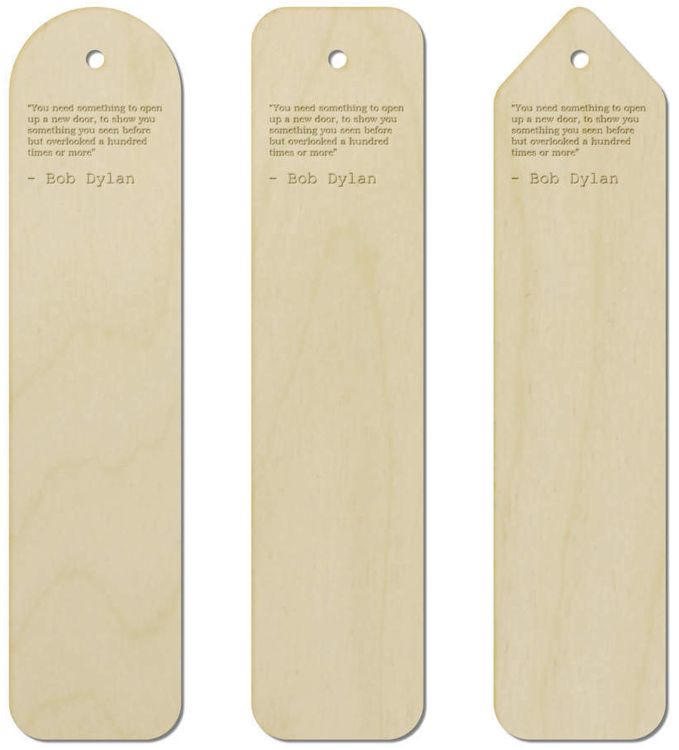 quote #4: "You need something to open up a new door, to show you something you seen before but overlooked a hundred times or more"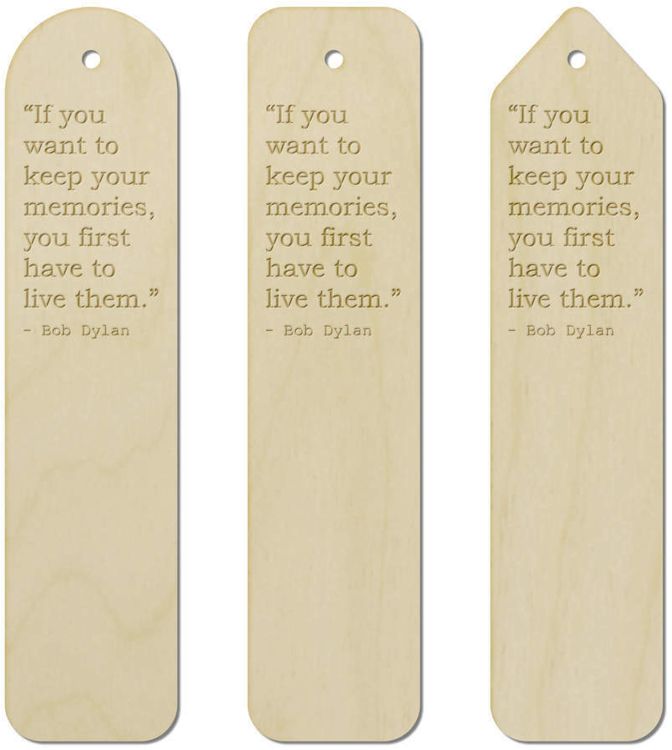 quote #5: "If you want to keep your memories, you first have to live them"
HOME MADE BOOKMARKS: top of page

Oil pastel and sharpie on doubled cardstock, leather tassel and beads (glass and metal) from craft store, covered with plastic wrap to protect the drawing. (eBay information)

Blonde On Blonde (probably sacrilegious cut-out of the LP cover!).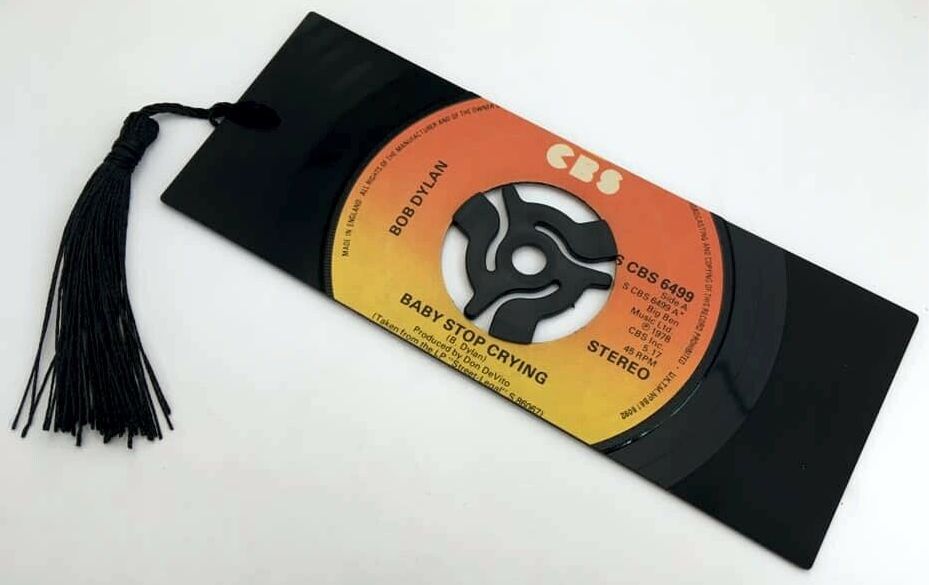 A Baby Stop Crying 7" was sacrified to make this original bookmark. .