BOB DYLAN TOUR ITINERARIES:
These are A5 sized spiral-bound tour itineraries, printed in the USA; they have a card cover and clear plastic protective sheets front and back. They include tour dates, venue information, hotel and travel arrangements for both band and crew; also contact information for management, accountants, travel agencies, sound, trucking/lights, transportation (buses), freight, & catering, but no band contact information for obvious reasons.
Most of the time, Bob required his name not to be printed on the cover in order to protect his security.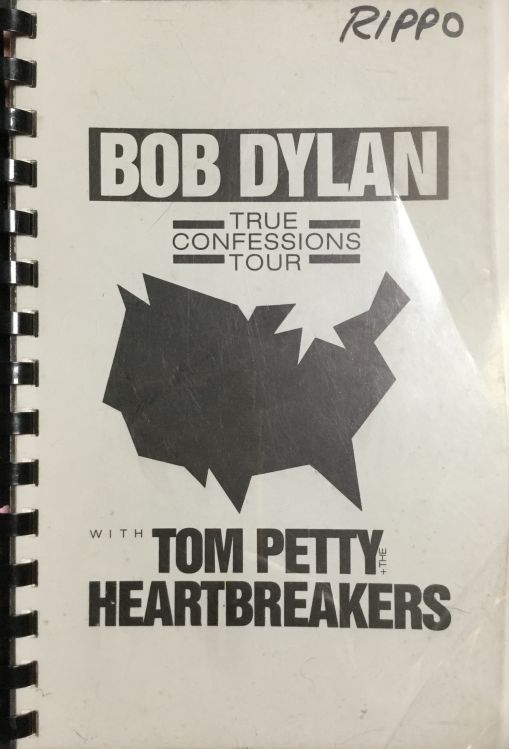 The 1986 "True Confessions Tour" itinerary includes performances from June 8 to July 6, 1986, when Bob Dylan and Tom Petty appeared in San Diego, Costa Mesa, Dallas, Chicago, Washington, D.C., New York City, Los Angeles, Austin, and more: 30 cities in all. 49 pages, A5

Europe 1987

same

same

1988 USA, 65 pages

same

same

American Tour 1989

same

same

Europe 1989

same

USA 1990

Australia New Zealand Tour, Spring 1992. Cesar Diaz personal Bob Dylan Itinerary book with his own hand written lyrics in the book

Europe Summer 1992






Late Summer 1992






same (1)


same (2)
Summer/Fall 1993, USA
Spring 1995, USA








Summer 1997, USA








August 1997, USA. DiFranco Tour Itinerary. Includes amusing cartoons, annotated in places with the pages originally folded by a bored member of the production office

Winter 1997, 26 pages


Fall 1997

Winter 1998, USA, part 1

same (1)

same (2)


Winter 1998, USA, part 2


1998, 'May'. This was used during the West Coast leg of the 1998 tour



1998, 'Pacific'. This was used during the August-September leg of the 1998 tour (Australia and New Zealand)


Summer 1999, USA, 70 pages, part 1




Summer 1999, USA, part 2




Winter 1999, USA. Tour Book Band Crew Itinerary dates with Brian Setzer

Spring 2000, USA. 35 pages




Summer 2000, 65 pages


same (1)

same (2)

Summer 2000, Phil Lesh & Friends

same



Europe 2000, 38 pages



same (1)






same (2)





Japan / Australia 2001. "48-page A5 sized spiral-bound tour itinerary book for the 23rd February - 1st April Japan & Australia 2001 tour.
August 2001, USA

Fall 2003, USA, 51 pages

Summer 2004, USA

same (1)









same (2)








USA 2004, includes tour dates from Oct. 13 thru Nov. 21, 2004, venues in WI, IN, OH, PA, MI, NY, RI, NH, MA, IL, IA, MO, KS, CO, and CA. Gig days are on white paper and days off are on gray paper.

Spring 2005, USA


same (1)
same (2)

Summer 2005, USA

same (1)

same (2)

Europe Autumn 2011