AUTOPEN SIGNATURE
When THE PHILOSOPHY OF MODERN SONG was published on November 2022 1st, the publisher Simon & Schuster offered for $599 an "Exclusive Edition Signed by Bob Dylan" on its website, coming with an authenticity letter.
But soon, by comparing their 'signed' copy on online forums, collectors raised suspicions that the books were not signed by Bob Dylan at all, but by autopen, or signing machine, a device that can replicate signatures from a pre-stored original; there seems to have been at least 17 of them, as can be seen below.
Of course that reduced in huge proportions the value of the items.
Under the pressure, Simon & Schuster apologized, stopped the selling of the Exclusive Edition and refunded the buyers, even telling them to keep the book.
How such a serious publisher went into what can be called a mistake, a blunder or a swindle is incomprehensible.




On November 26th Bob Dylan reacted on Facebook:
To my fans and followers,
I've been made aware that there's some controversy about signatures on some of my recent artwork prints and on a limited-edition of Philosophy Of Modern Song. I've hand-signed each and every art print over the years, and there's never been a problem.
However, in 2019 I had a bad case of vertigo and it continued into the pandemic years. It takes a crew of five working in close quarters with me to help enable these signing sessions, and we could not find a safe and workable way to complete what I needed to do while the virus was raging. So, during the pandemic, it was impossible to sign anything and the vertigo didn't help. With contractual deadlines looming, the idea of using an auto-pen was suggested to me, along with the assurance that this kind of thing is done 'all the time' in the art and literary worlds.
Using a machine was an error in judgment and I want to rectify it immediately. I'm working with Simon & Schuster and my gallery partners to do just that.
With my deepest regrets,
Best wishes,
Bob Dylan



Here are the 17 variations used for Bob Dylan's signature, as noted by Jason H on the Autograph forum:





Below is the "authenticity letter" that came with the books, signed (with autopen?) by Jonathan Karp, President of Simon & Schuster: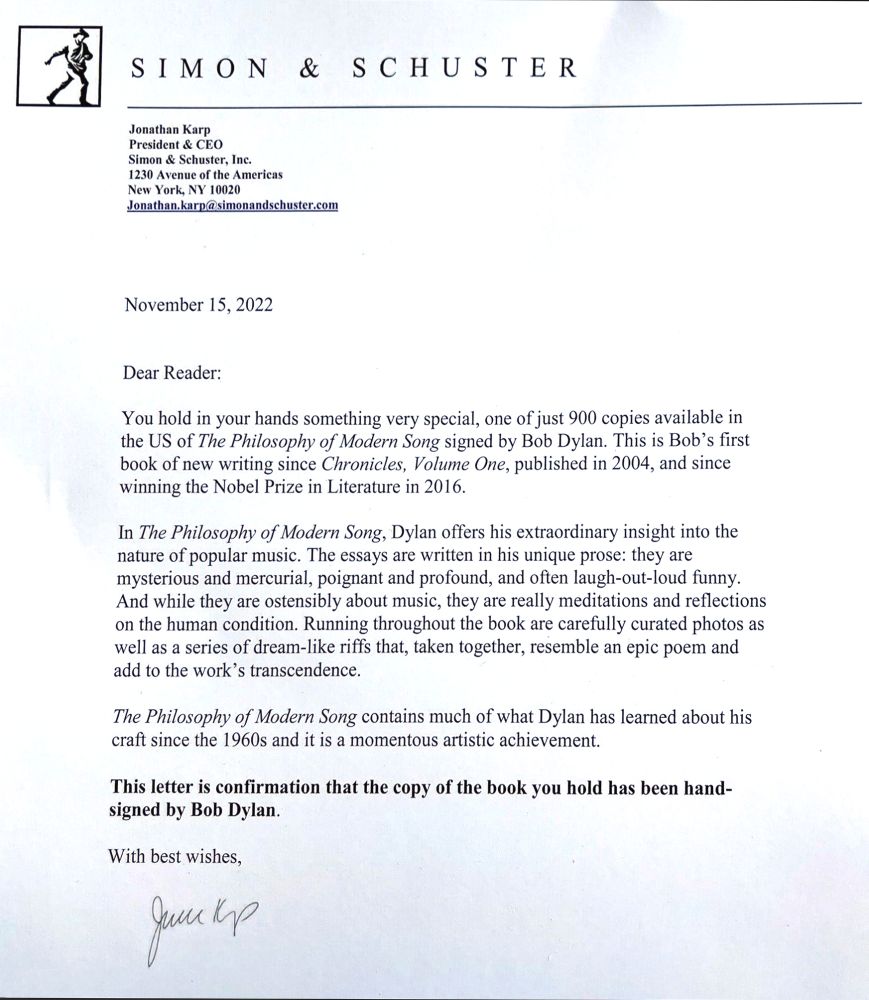 There is a very strong possibility that Autopen had been already used on the BEHIND THE PICTURE FRAME prints, series of sets sold by Genesis Productions "each archival print (being) signed as a mark of authenticity by the artist himself, Bob Dylan".