THE PARIS 1966 PRESS CONFERENCE
INFORMATIONS DISQUES CBS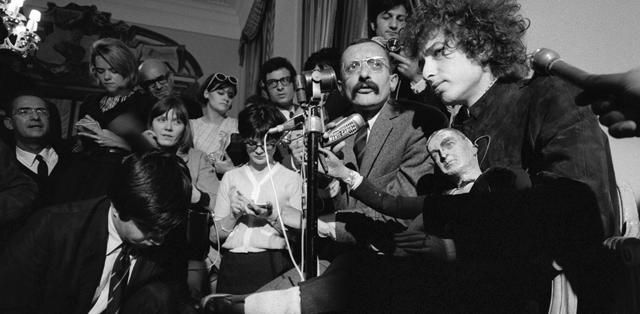 Photo Jean-Louis Rancurel
"On 23 May 1966, Bob Dylan held a press conference at the George V Hotel in Paris. French journalist Jean-Marc Pascal had been in Dylan's inner circle since Sheffield on 16th May. On the plane to Paris on the 22nd, Dylan asked Pascal, 'What sort of questions will they ask me at the press conference?' Pascal told him, 'Nothing original, you can be assured. What do you think about the Vietnam war? Why you've changed your style of music, what do you think about long hair? That's about it.'
On the morning of the 23rd May, Dylan went to a flea market with Barry Feinstein and picked up a prop for that afternoon's press conference, a ventriloquist's puppet which he called 'Finian'. He also picked up 'the biggest US flag he could find', which would be used as the backdrop at the show on the 24th at the Olympia". (Route -Facebook).
In this 4-page information document, Disques CBS (CBS France) has transcribed the press conference, in order to show the French press and public who Bob Dylan was; his half bored half amused way of answering sometimes provocative questions, was, and still is, quite unusual.
Most of the questions were asked in French, and translated, as were the answers, by the moustached interpreter sitted at the right of Bob Dylan. His name was Jacques-Bernard Hess, famous jazz bassist, but totally ignorant at the time of who Dylan might be. He had been recruited for his perfect knowledge of the English language. Thank you to Jean-Pierre Mercier for the information.
Below is the English transcript of the press conference, as published in POSITIVELY TIE DREAM in 1979: