THE BOB DYLAN SCRAPBOOK 1956-1966
THE BOB DYLAN SCRAPBOOK 1956-1966, by Robert Santelli, Simon & Schuster 2005, 64 pages, New York, London Toronto and Sydney; hardback. See below the many artifacts included in this must-have book.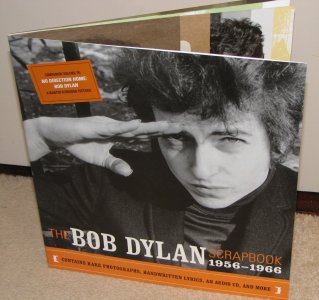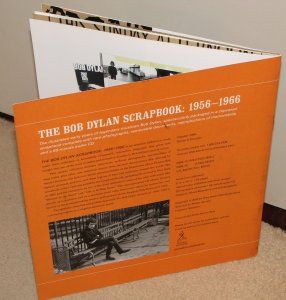 same, pre-publicity booklet: This 12-page booklet is the same size as "Scrapbook" (in fact, it fits in the slipcase perfectly). The front cover is the same as the slipcase, except that it carries a small, brown sticker saying, "Companion volume to No Direction Home: Bob Dylan a Martin Scorsese film". The rear cover is different from that on the slipcase. Inside, the booklet has pages 2-3, 22-23, 46-47 and 26-27 (in that order) plus a page about "Scrapbook" and one with the Bringing It All Back Home cover photograph. The booklet also demonstrates the content, with a pocket and an envelope, but only partially. On the rear cover, the booklet is described as "Uncorrected Proof. Not for Sale" and, indeed, the text varies just a little from what was published. (photos and information Ian Woodward).