THE BOB DYLAN SCRAPBOOK: 1956-1966
THE BOB DYLAN SCRAPBOOK: 1956-1966, by Robert Santelli, Simon & Schuster 2005, 64 pages, New York, London, Toronto and Sydney; hardcover in slipcase. With a sticker that reads: "Companion volume to No Direction Home Bob Dylan A Martin Scorsese Picture"
US and UK edition are quite similar and have the same ISBN number, but the copyright information on the first page is slightly different. Both editions are 'manufactued in Malaysia'.
The CD has 14 tracks : 1.Oscar Brand Interview 29/10/61 (1:08), 2.Cynthia Gooding Interview 13/01/62 (4:18), 3. Allen Stone Interview 24/10/65 (6:19), 3. Martin Bronstein Interview 20/02/66 (9:50), 5 to 14. Interviews taken from the Martin Scorsese film "No Direction Home". ISBN 9780743228282.
Scroll down to see the artefacts included in the book.
Below are the artifacts included in this must-have book:
Below, pre-publicity booklet: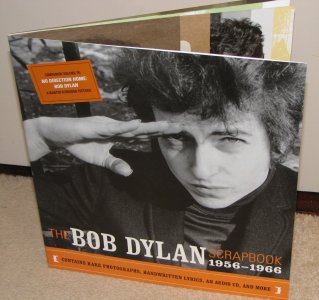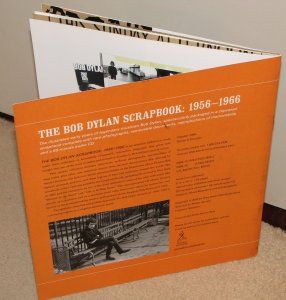 This 12-page booklet is the same size as "Scrapbook" (in fact, it fits in the slipcase perfectly).
The front cover is the same as the slipcase, except that it carries a small, brown sticker saying, "Companion volume to No Direction Home: Bob Dylan a Martin Scorsese film".
The rear cover is different from that on the slipcase. Inside, the booklet has pages 2-3, 22-23, 46-47 and 26-27 (in that order) plus a page about "Scrapbook" and one with the BRINGING IT ALL BACK HOME cover photograph.
The booklet also demonstrates the content, with a pocket and an envelope, but only partially. On the rear cover, the booklet is described as "Uncorrected Proof. Not for Sale" and, indeed, the text varies just a little from what was published. (photos and information Ian Woodward).