THE TRAVELING WILBURYS, Genesis Publications
THE TRAVELING WILBURYS chronicles the adventures of Nelson, Otis, Lucky, Lefty and Charlie, in their own words and through hundreds of unseen photographs, Polaroids, drawings, log book entries and handwritten music and lyric sheets. Each copy in this limited edition is personally signed by Jeff Lynne.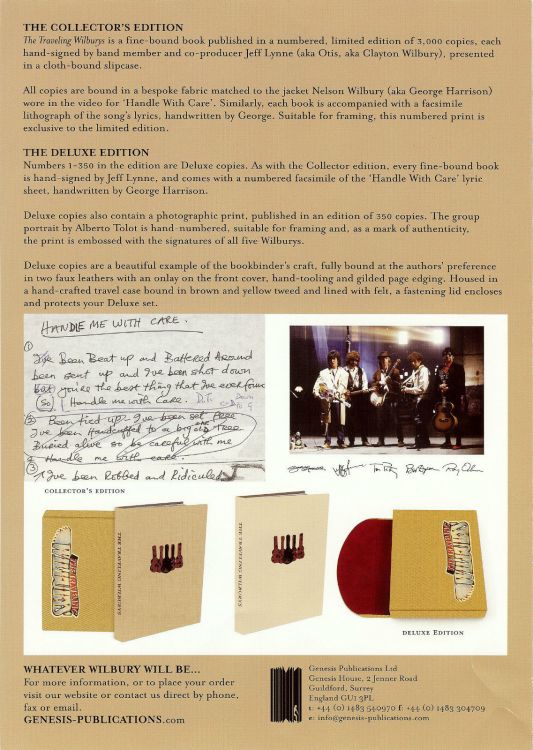 THE TRAVELING WILBURYS, Genesis Publications 2007, hardcover in slipcase, 144 pages.
There are two editions for this very special book limited to 3000 copies worldwide:
1) The Collector's Edition, each hand-signed by band member and co-producer Jeff Lyne, presented in a cloth-bound slipcase, matched to the jacket Nelson Wilbury (a.k.a. George Harrison) wore in the video for Handle With Care.
2) The limited DeLuxe edition (numbered 1-350) also signed by Jeff Lynne.
Fully bound in two faux leathers with an onlay on the front cover, hand tooling and gilded page edging; copies are housed in a unique travel case covered in brown and yellow tweed and lined with felt. A clasp secures the folding lid to completely encase and protect the limited edition. Exclusive hand-numbered, limited edition photography by Alberto Tolot. Also included in this edition is a fac-simile of 'Handle With Care' lyric sheet, handwritten by George Harrison.