SIX UNRELEASED SONGS
FROM SEPTEMBER 1971

by
BOB DYLAN
(Reuven ben-Avraham).

Tape Transcription By
Stephen Pickering
(Chofetz Chaim ben-Avraham).


Date of recording: September 1971.
Place of recording: 94 MacDougal Street, New York City.
Style of recording: Dylan, alone, on acoustic guitar and harmonica.
All songs on guitar fingerpicked, except
"On The Mainline", which is performed with a
steady strumming, bluesy.

©1971 by Bob Dylan.
This strange item is a very poor quality 70s photocopy of a 13 page typing by Stephen Pickering. It is supposed to present the lyrics of six Dylan songs transcripted from a 1971 tape that, if it exists, has still not surfaced.

The six songs are:

- THE BLUES FROM THEFT AND BLOOD (2 verses),
- I WILL MAKE MY STAND RIGHT HERE (7 verses and chorus),
- LOVER, I'M LEAVING YOU (11 verses),
- I HAVE HEARD A STORY TOLD (THE BEING SONG) (6 verses plus a long more recitative-looking text),
- IT'S JUST A WAR, (4 verses and chorus)
- ON THE MAIN LINE (13 verses)
There is a doubt on the authenticity of these 'Dylan' lyrics; you can see them below.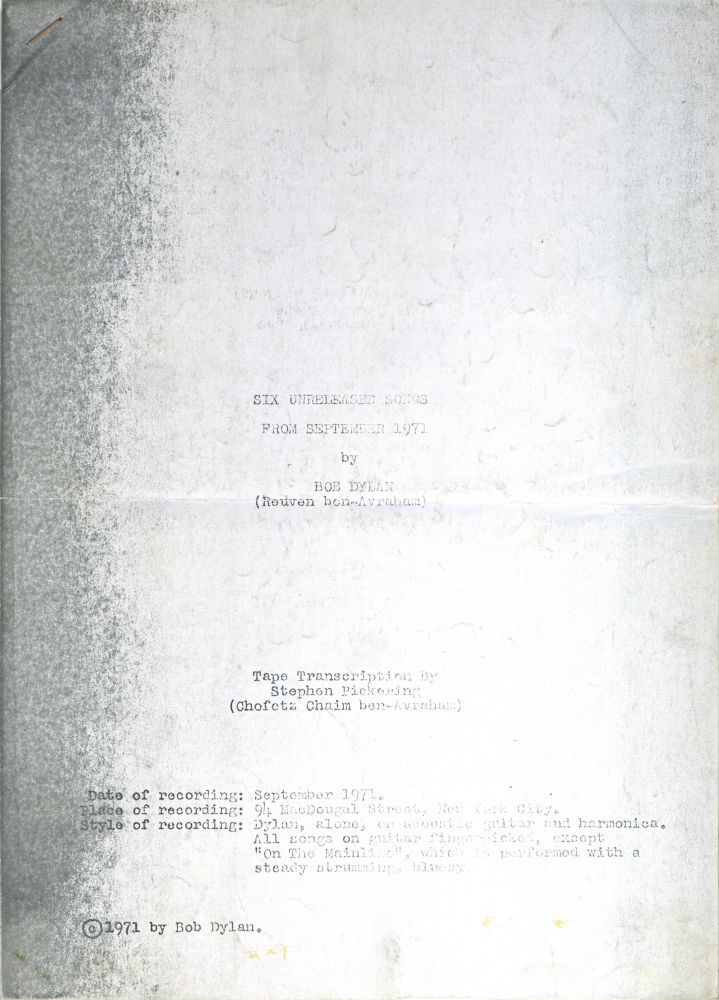 THE BLUES FROM THEFT
AND BLOOD

I WILL MAKE
MY STAND RIGHT HERE








LOVER, I'M LEAVING YOU




I HAVE HEARD A STORY TOLD
(THE BEING SONG)










IT'S JUST A WAR

ON THE MAIN LINE