REAL MOMENTS
- BOB DYLAN BY BARRY FEINSTEIN
Few photographers had greater access to Bob Dylan than Barry Feinstein. Having taken the iconic photograph that appeared on Bob Dylan's THE TIMES THEY ARE A-CHANGIN' album in 1963, Feinstein was invited to Dylan's European tour of 1966 and US tour of 1974.

The book has been translated into French, German and Japanese.

Foreword by Bob Neuwirth , Vision On, Omnibus Press 2008, 158 pages, hardback.
ISBN 978-1847721051

Vision On, Omnibus Press 2009, 158 pages, softcover. ISBN 978-1847729644


Below: DeLuxe green edition Genesis Publications 2009. There were two different editions, (red or green leather cover), both with gold page edging, cloth-covered slipcase; they came with a 10" x 8" print of Dylan receiving a rose as he exits a 1974 stage. The first 250 copies are numbered, and signed by Barry Feinstein.
| | |
| --- | --- |
| book | slipcase |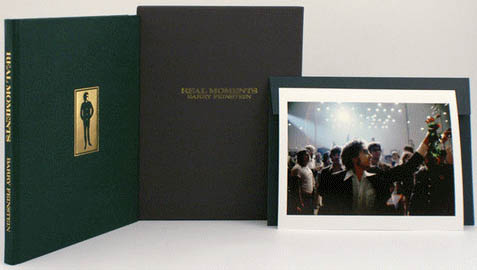 Below: same, DeLuxe red edition: