The Times They Are a-Changin'
"The Times They Are a-Changin'" is a song written by Bob Dylan and released as the title track of his 1964 album of the same name. Dylan wrote the song as a deliberate attempt to create an anthem of change for the time, influenced by Irish and Scottish ballads. Released as a 45-rpm single in Britain in 1965, it reached number 9 in the British top ten.
Ever since its release the song has been influential to people's views on society, with critics noting the general yet universal lyrics as contributing to the song's lasting message of change. Dylan has occasionally performed it in concert. The song has been covered by many different artists, including Nina Simone, the Byrds, Peter, Paul, and Mary, Simon & Garfunkel, the Beach Boys, Joan Baez, Phil Collins, Billy Joel, and Bruce Springsteen.
The song was ranked number 59 on Rolling Stone's 2004 list of the "500 Greatest Songs of All Time".

UK, Blossom Music Ltd.



UK, Warner Bros Seven Arts Music

US, Warner Bros. Music



Australia & New Zealand, Allans Music Pty Ltd

same, alternate colour and price



same, alternate colour and price



same, alternate colour and price
Series of 4 Australian editions,
with alternate colours and increasing prices


USA, 'Recorded by The Byrds on Columbia Records', M. Witmark & Sons, New York





France, cover by Hugues Aufray, released on his LP AUFRAY CHANTE DYLAN, lyrics by Pierre Delanoë and Hugues Aufray, Société Intercontinentale de Musique.
Holland, unofficial; part of the Bob Dylan Transcripts Series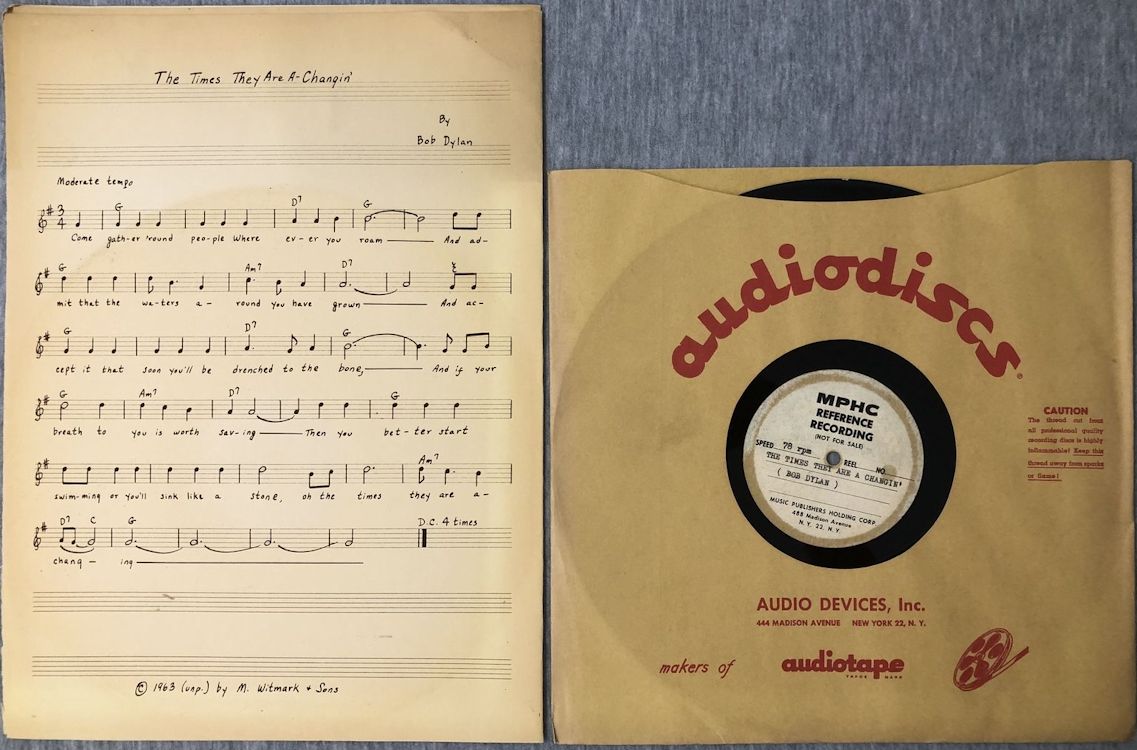 USA, part of the Acetates SHEET MUSIC series.