Don't Think Twice, It's All Right
"Don't Think Twice, It's All Right" is a song written by Bob Dylan in 1962, recorded on November 14 that year, and released on the 1963 album THE FREEWHEELIN' BOB DYLAN and as the b-side of the "Blowin' in the Wind" single.
The song was covered by several other artists, including Peter, Paul and Mary who released it as a single which reached the Top 10 of the Billboard Hot 100.
| | | |
| --- | --- | --- |
| As recorded by Peter Paul And Mary, M. Witmark & Sons, USA. | same, copy signed by Bob Dylan, Peter, Paul and Mary, with a new price | same, Allan's Music, Australia, PRY Ltd. |
| Part of the Exact and Accurate Transcripts Series | French version N'Y Pense Plus, Tout Est Bien, recorded by Hugues Aufray on his LP AUFRAY CHANTE DYLAN, Société Intercontinentale de Musique. French lyrics by Pierre Dorsey, Pierre Delanoë and Hugues Aufray. | same, alternate colour, without SIM's address |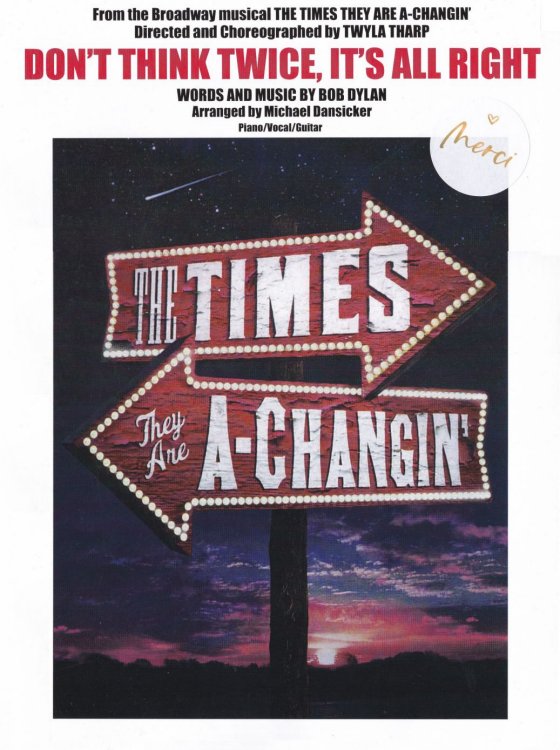 Amsco Publication, USA, from the Twyla Tharp's Broadway musical The Times They Are A-Changin'. [0522]