BOB DYLAN FACE VALUE 2013 - 2014
The exhibition took place in the National Portrait Gallery, London, 24 August 2013 - 12 January 2014.
Below is the catalogue of the exhibition, published by The National Portrait Gallery, Summer 2013. Introduction by John Elderfield, large format hardback, 64 pages. ISBN 9781855144804. See more here from Lizzie B design.

In 2013, 21 copies were signed in pencil by Bob Dylan on an official NPG bookplate, and additionally numbered 1-21 (unlikely to have been by Bob Dylan). #1, #2 and #3 were not sold but carefully kept by the publisher.

On 26 May 2021, with no pre-publicity whatsoever, in celebration of Bob's 80th birthday, 12 copies of this catalogue were put on sale, that time signed in black marker (see below) by Bob Dylan on a National Portrait Gallery bookplate again. They were priced at £500 each and were sold in around two hours.
After these 12 signed books had sold out, the NPG put on sale the three signed copies they had kept, signed in pencil in 2013. These three copies were priced much higher, presumably because of the low number designations: #1 sold for £2,500, #2 for £2,000, and #3 for £1,500...
Thank you to Steve Perrin for this information and photos.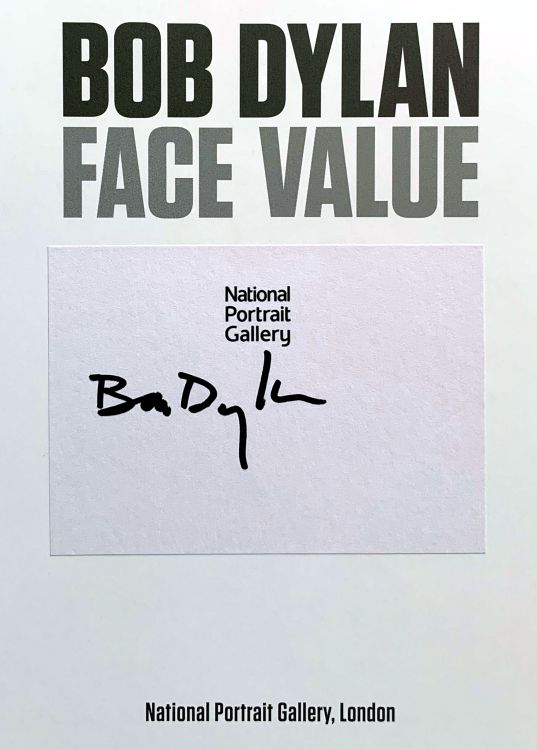 2021 copy, signed in black marker. (Collection Steve Perrin)