DRAWN BLANK IN PROVENCE, 2022
Château La Coste, Le Puy-Sainte-Réparade, France
Château La Coste is a 600-acre sculpture park, art destination and organic winery in Provence. The sculpture park contains art and architecture by contemporary artists such as Tadao Ando, Louise Bourgeois, Oscar Niemeyer, Jean Nouvel, Renzo Piano, Richard Rogers, Richard Serra... and much more, with and last but not least, Bob Dylan.
Irish property magnate Paddy McKillen is the estate owner. Wine varietals of the estate include Syrah, Cabernet Sauvignon and Vermentino.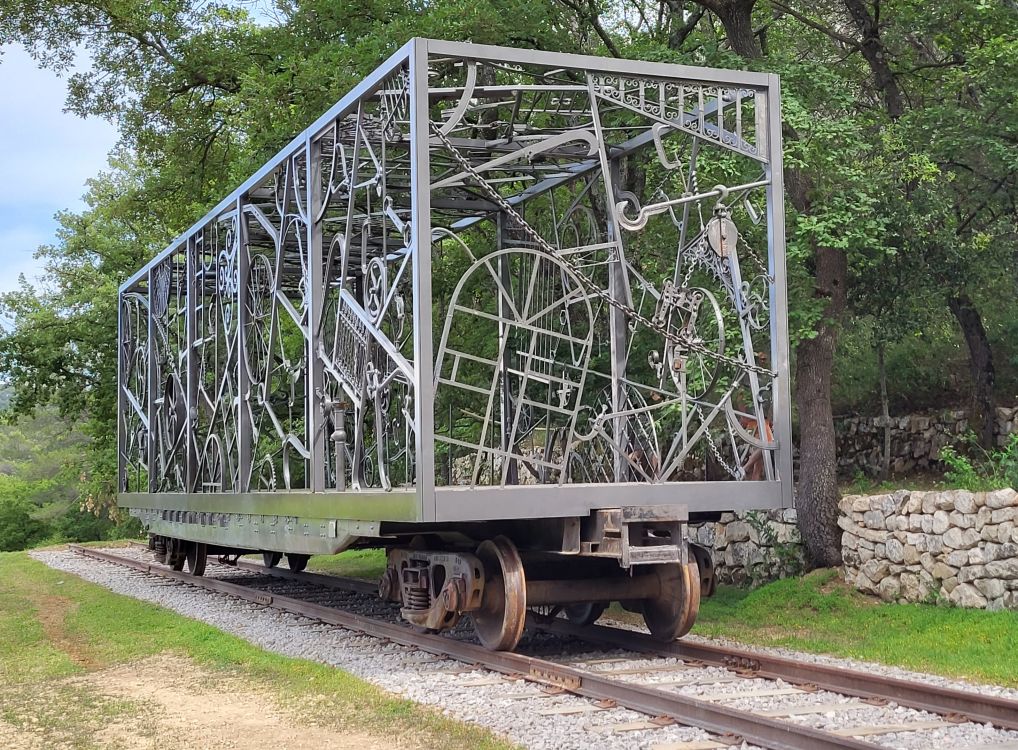 Beside the monumental 'Rail Car' sculpture which will stay there permanently, the Dylan exhibition consists of 39 paintings, shown for a part at La Galerie de Richard Rogers, 7 May - 5 June 2022, and at Le Pavillon de Renzo Piano, 7 May - 15 August 2022. Some paintings of modern and impressionist artists (Renoir, Matisse, Picasso, Pissarro, Chagall...), are also presented there, in order to show their influence on Bob Dylan's work.

This retrospective is the very first opportunity for the artist to exhibit his works in France. Inspired by Provencal landscapes and their light, Dylan's works face paintings by great Impressionist painters or modern art, themselves having been strongly inspired by the south of France.
| | |
| --- | --- |
| Pavillon de Renzo Piano, list of the paintings, front. | same, back. |
The two books below are published jointly by Château La Coste and Halcyon Gallery, large (27,5 cm x 27,5 cm) textured hardcover, gilt-edged. Text in French and English. No ISBN.
| | |
| --- | --- |
| DRAWN BLANK IN PROVENCE. Book of the exhibition. "This work offers a complete vision of the exhibition thanks to numerous photographs and texts, all accompanied by an interview of the artist". Hardcover, 168 pages. | RAIL CAR. This book traces the creation of Rail Car, a permanent sculpture by Bob Dylan on the La Coste route. Enriched with numerous texts and photographs. "You are invited here to immerse yourself in the artist's work and to experience the Art and Architecture course of the domain". Hardcover, 92 pages. |
Below: 16-page booklet. "Contains illustrations and dialogue". (Thank you to Jürgen Wasser who found this item on eBay).