THE BOB DYLAN CONVENTIONS
In the years before the Internet, several Dylan conventions were organised, the first-known being in Britain in 1979. They gave fans the opportunity to meet other fans (socialising over drinks and food and meeting face-to-face people who, hitherto, had only been pen-friends).
The conventions included formal presentations (such as talks, interviews with people who had known Dylan, discussion panels, quizzes and similar activities) and, in the evenings, there would usually be bands playing Dylan songs. Fans also had the opportunity to hear rare audio recordings, to watch Dylan videos on large screens, and to buy records, tapes, photographs, magazines, books, T-shirts and other memorabilia. Sometimes, as in New York, an impersonator contest was organized.
Thank you to Ian Woodward.
Here are some documents:
| | |
| --- | --- |
| 1979: "Dylan Revisited 79", Manchester, UK | 1980: "Dylan Revisited", Manchester, UK (quiz list). |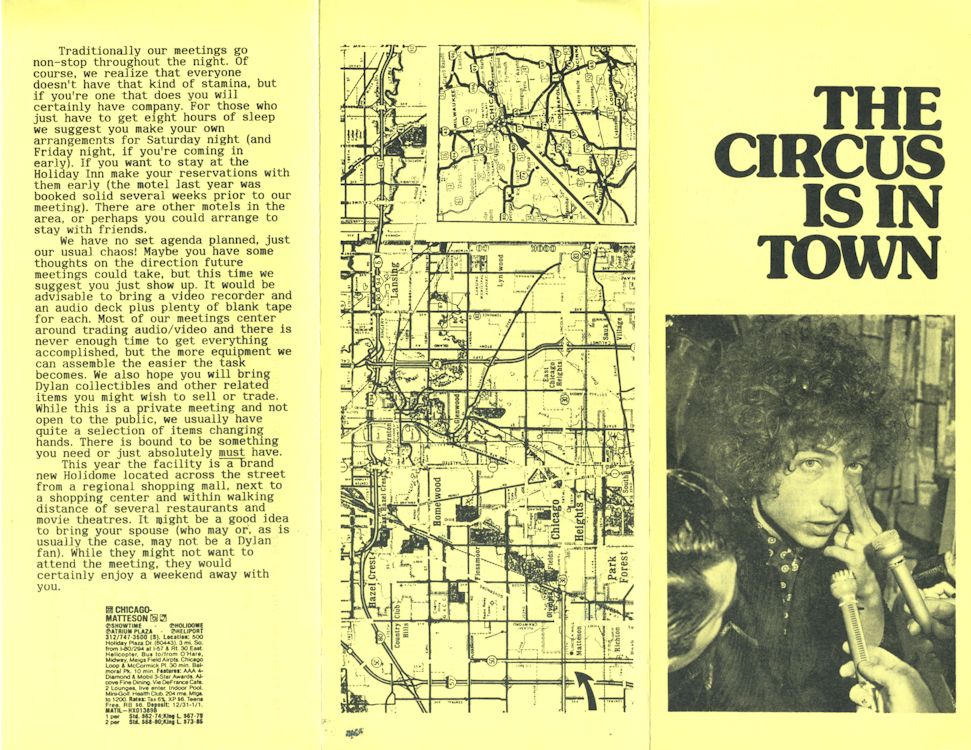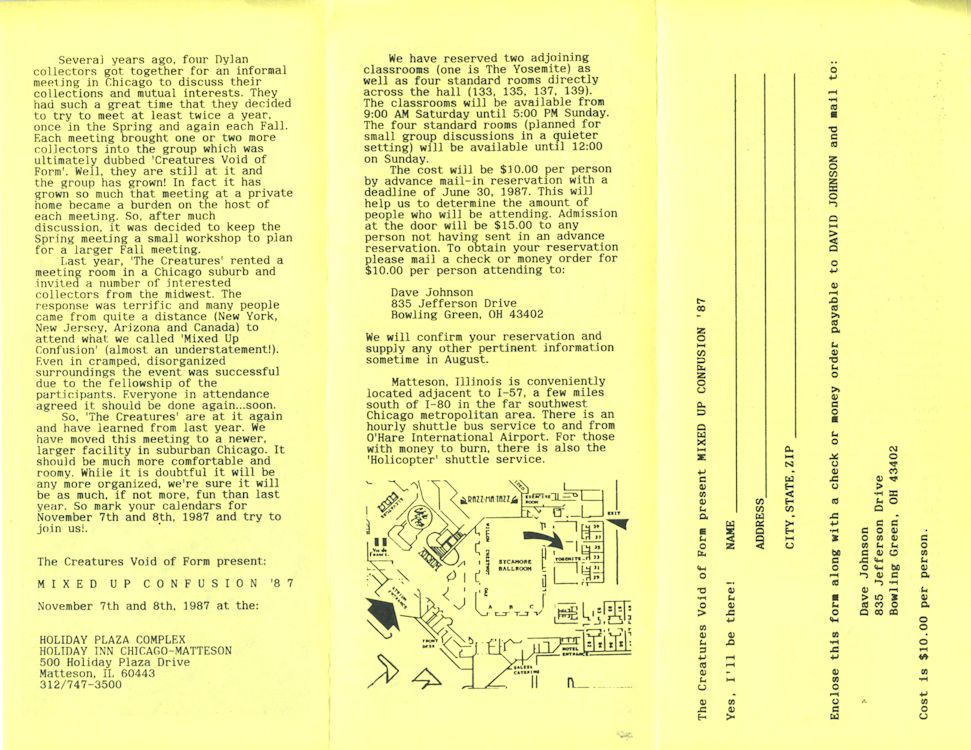 1987: "The Circus Is In Town", flyer (front and back) for "Mixed up confusion '87", the Bob Dylan Convention organized on 7th and 8th November 1987 in Chicago, Ill. by The Creatures Void Of Form.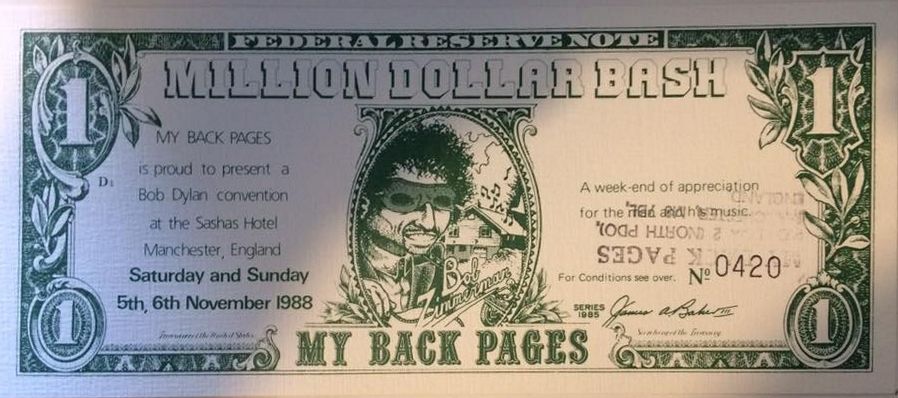 1988: "Million Dollar Bash" flyer

1988:"Million Dollar Bash" booklet, 16 pages, glossy paper, Manchester, UK,
5 & 6 November 1988

1990: "Days Of 49", booklet, 16 matt pages, Sachas Hotel, Manchester, UK,
25-27 May 1990


1990: "Days Of 49", 4 pages leaflet giving practical informations for the reunion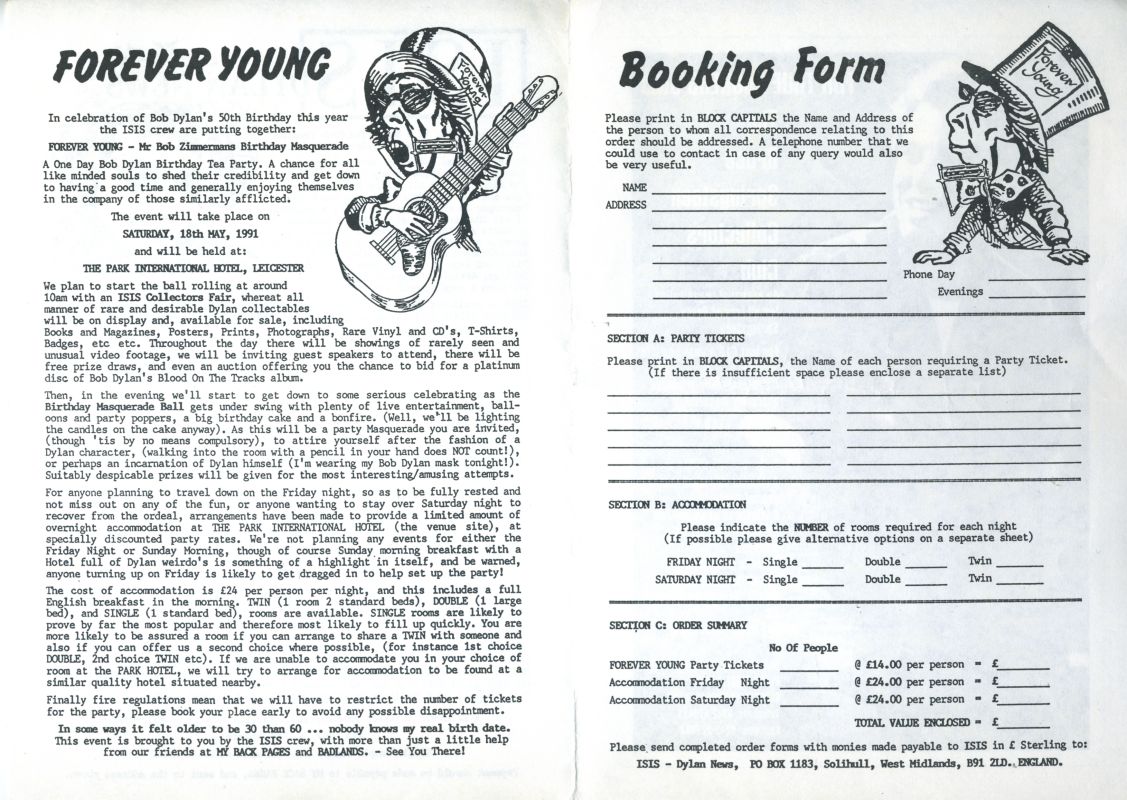 1991: "Forever Young -Mr Bob Zimmerman Birthday Masquerade". Flyer with booking form (front/back and inside) for the 18 May 1991 reunion, in Leicester, UK.
| | | |
| --- | --- | --- |
| 1991: "Hard Times In New York Town", 50th Birthday Celebration, New York 24-26 May 1991, New York Skyline Hotel. Programme: card cover containing 8 pages outlining the guests speakers and events taking place to mark Bob's 50th birthday celebration | same, flyer | 1993: 2-4 April, "Down Along The Cove", in Seattle, Wa., USA |
| 1994: Flyer for "Bringing It All Back Home", 20-21 May, Manchester, UK, ISIS #52 insert | 1994: Flyer #2 for "Bringing It All Back Home", 20-21 May, Manchester, UK | 1996: "Bob's Birthday Bash", 25 May, Covingham, UK |
| 1996: "Swedish Dylan Convention", organised by Lars Holm | 1998: 'Something is Happening', announcement of 4th Dylan convention, 22 -24 May 1998, Manchester, UK | 1998: 'Something is Happening', 4 page programme |
| 2001: 'Forever Young', A4 leaflet included in ISIS #95 | 2001: 'Forever Young', A4 leaflet included in ISIS #96 | 2001: 'Winterlude', leaflet included in ISIS #98 |