THE ESSENTIAL BOB DYLAN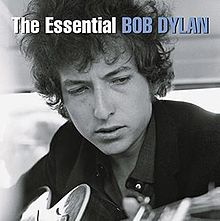 THE ESSENTIAL BOB DYLAN is a compilation by Bob Dylan, released as a double-CD set in 2000, part of Columbia Records' "The Essential" series. THE ESSENTIAL BOB DYLAN spans from 1963's "Blowin' in the Wind" (taken from THE FREEWHEELIN' BOB DYLAN) to 1999's "Things Have Changed" (Dylan's Oscar-winning song from the motion picture WONDER BOYS).
"Matching* songbook to the album released in December of 2002, contains 30 songs. Includes classics as well as tracks from TIME OUT OF MIND and the previously unreleased hit song Things have Changed. For piano, vocal and guitar. 111 pages" (information bobdylan.com).
*Actually not really matching the CD, as there are 32 songs on the CD and 30 in the songbook, and they are different:
- On CD and not in songbook:Ring Them Bells, Make You Feel My Love, Mississippi, Beyond Here Lies Nothin', Duquesne Whistle, When The Deal Goes Down.
- In the songbook and not on CD: It's All Over Now Baby Blue, Shelter From The Storm, Silvio, Everything Is Broken.
Thank you to Peter Oudejans for pointing these differences.
Below: The songbook, USA 2001, Amsco Publications, NY, Music Sales Corporation, 112 pages, 30 songs. #AM969573, ISBN 0-8256-1838-X, 0.7119.8763.7