THE BEST OF BOB DYLAN VOLUME 2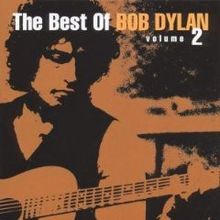 THE BEST OF BOB DYLAN VOLUME 2 is a compilation album released in the U.K., New Zealand, Australia and Canada on November 28, 2000. It is the sequel to THE BEST OF BOB DYLAN VOL. 1, released 3 years earlier in 1997. It was later released in Europe and Japan; although it has never been released in the United States.
The songs are: Things Have Changed, A Hard Rain's A-Gonna Fall, It Ain't Me Babe, Subterranean Homesick Blues, Positively 4th Street, Highway 61 Revisited, Rainy Day Women #12 & 35, I Want You, I'll Be Your Baby Tonight, Quinn The Eskimo (The Mighty Quinn), Simple Twist Of Fate, Hurricane, Changing Of The Guards, License To Kill, Silvio, Dignity, Not Dark Yet.

Below: The songbook, - ALL THE SONGS FROM THE ALBUM ARRANGED FOR PIANO, VOICE AND GUITAR. INCLUDING COMPLETE LYRICS AND GUITAR CHORD BOXES, Wise Publication, London, Music Sales Corporation, 17 songs, 96 pages. ISBN 0-7119-7003-3.