THE BEST OF BOB DYLAN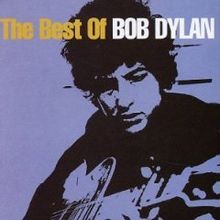 THE BEST OF BOB DYLAN is a compilation album released in the U.K., New Zealand, Australia and Canada on 2 June 1997. It was later released in Europe and Japan, although it has never been released in the United States.
Below: The songbook, UK 1997, Wise Publications, London, Music Sales Corporation, 72 pages.
It includes: Blowin' In The Wind, The Times They Are A Changin', Don't Think Twice, It's All Right, Mr. Tambourine Man, Like A Rolling Stone, Just Like A Woman, All Along The Watchtower, Lay Lady Lay, I Shall Be Released, If Not For You, Knockin' On Heaven's Door, Forever Young, Tangled Up In Blue, Oh, Sister, Gotta Serve Somebody, Jokerman, Everything Is Broken and Shelter From The Storm.