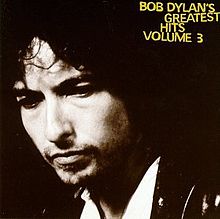 BOB DYLAN'S GREATEST HITS VOLUME 3 is a compilation LP album by Bob Dylan, released on Columbia Records on compact disc in 1994, catalogue CK 66783. It peaked at No. 126 on the Billboard 200.
Below: The songbook, USA 1994, Amsco Publications, Music Sales Corporation. Contains piano/vocal/guitar arrangements for the 14 songs. 72 pages. ISBN 978-0825614545.
The songs included are: Tangled Up In Blue, Changing Of The Guards, The Groom's Still Waiting At The Altar, Hurricane, Forever Young, Dignity, Silvio; Ring Them Bells, Gotta Serve Somebody, Series Of Dreams, Brownsville Girl, Under The Red Sky and Knockin' On Heaven's Door.