A TRIBUTE TO WOODY GUTHRIE (1972)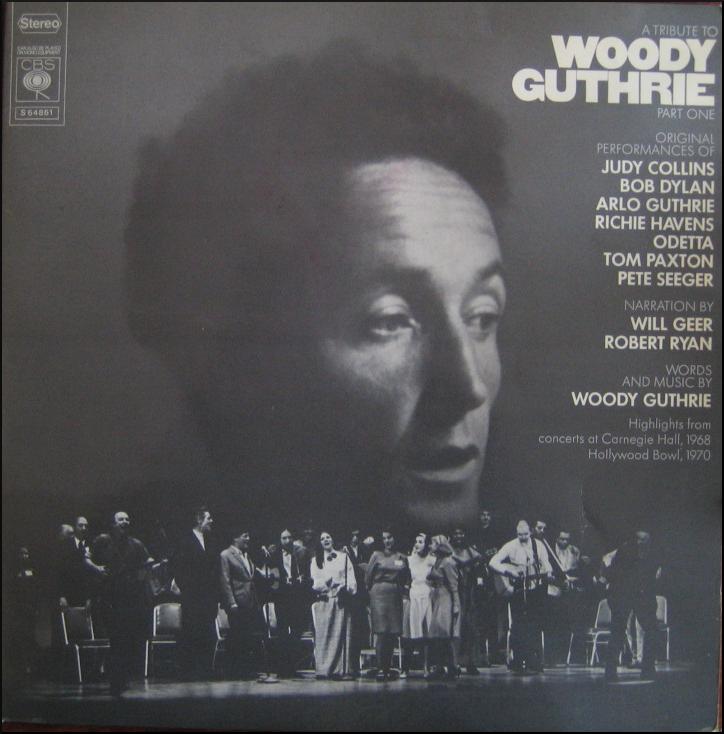 On January 20, 1968, three months after Guthrie's death, Harold Leventhal produced A Musical Tribute to Woody Guthrie at New York City's Carnegie Hall, starring, among others, Joan Baez, Judy Collins, Bob Dylan, Jack Elliott, Arlo Guthrie, Richie Havens, Pete Seeger, Tom Paxton, and Odetta. Leventhal repeated the tribute on September 12, 1970, at the Hollywood Bowl in Los Angeles, with the addition of Earl Robinson and Country Joe McDonald.
Millard Lampell wrote the script for both events, read by Peter Fonda, Will Geer, and Robert Ryan.
Recordings of both concerts were eventually released as LPs and later combined into one CD.
Below: NY Ludlow Music 1972. This songbook of the two events includes many concert photographs as well as candids from Woody's life and times, and lyrics, melody lines and guitar chords to 29 of his songs. Illustrated by illus throughout from photos. 11" x 8.5", 72 pages.